Using InfraNodus you can merge (conflate) and unlock the topical clusters in the graph to have a better overview of the general structure of the network.
This helps you think in terms of the bigger picture, so you can have an overview of the main things without having to focus on the details.
You can, of course, then remove the main things from the graph to see what's hiding behind them.
For example, "neural" and "network" can be redefined as "neural network", so you see this topic appear as one node on the graph.
You can then repeat this process iteratively to simplify the graph view and to reveal the relations between these different topics.
This approach helps you "save" meaningful semantic relations as you explore the graph, decreasing the level of granularity, so you can focus on the things that matter.
Once you focus on them, you can also remove them from the graph to see what's hiding behind.
Merging and Unlocking the Nodes on a Network Graph:
Step by Step Instructions
Stage 1: Merging the Nodes into Topics on the Graph
Step 0: Create a new graph. You can use your existing text, import the Twitter or Google search results for a certain query using InfraNodus apps.
Step 1: Once you visualize the graph, select the nodes on the graph you would like to merge into a topic. For example, "black people" in this Twitter import example below. Then
Step 2: click the Merge button at the top right menu next to the selected words.
Step 3: then choose the name in the text field above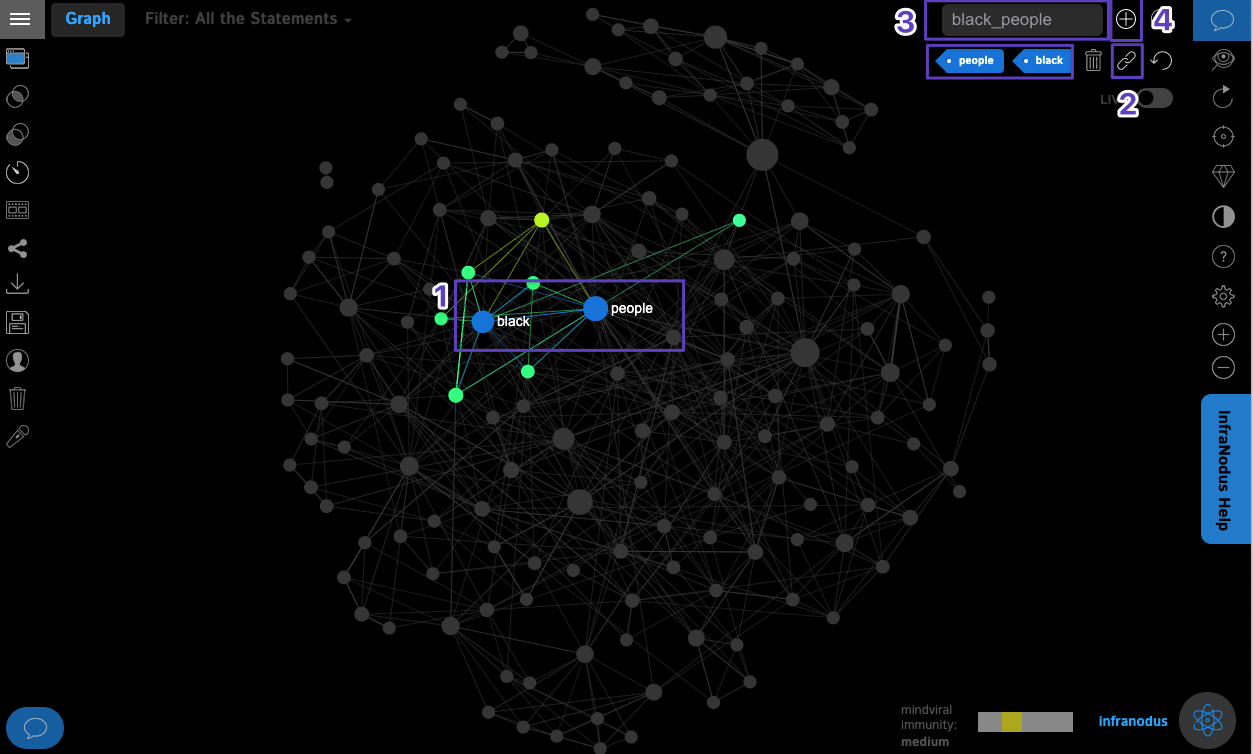 Step 4: and click + Add button to save it as a new topic node — conflating those nodes together into this new node.
You will see a new new appearing ("black people") and the two old ones disappearing from the graph: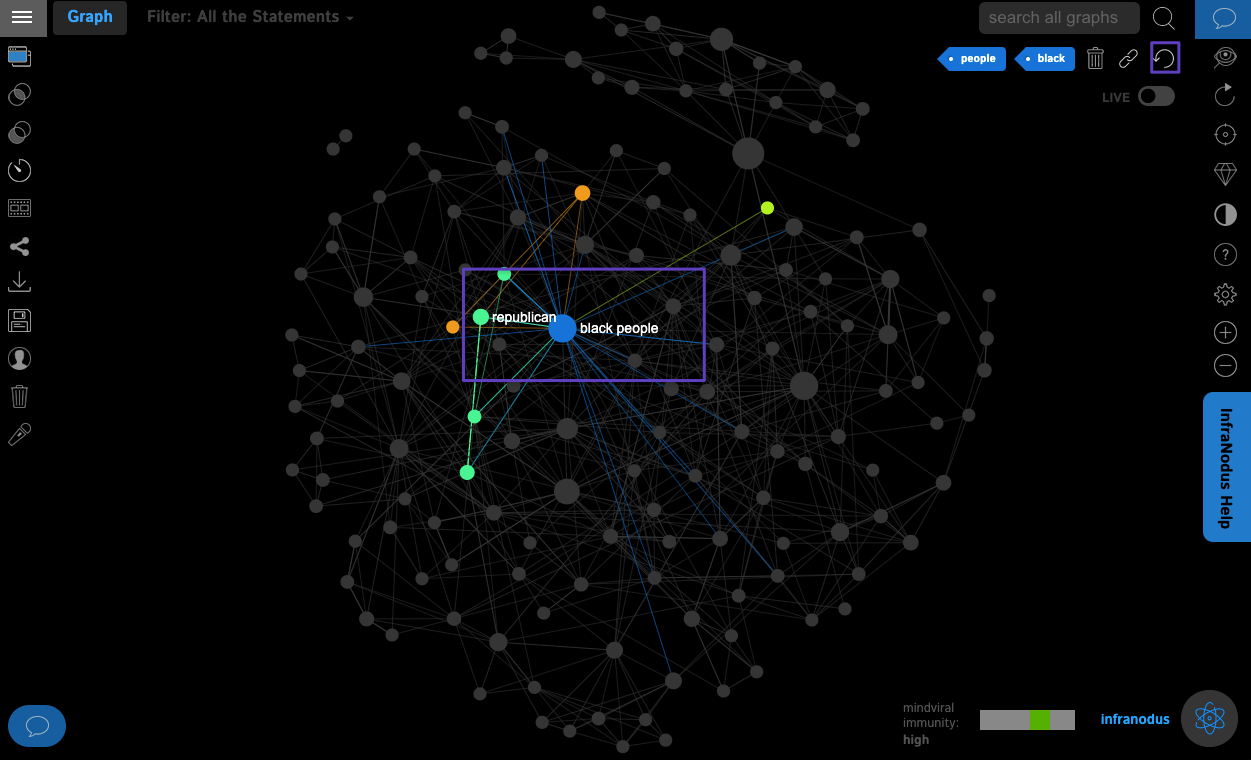 Step 5: Deselect the nodes by clicking the back arrow button at the top menu and continue doing the same to more nodes on the graph. E.g. "bolton book trump", "release jennie video", etc.
Step 6: At some point you can also use the graph filter menu on the right to remove the smaller nodes, so you can see the big picture: the main topical clusters and the relations between them.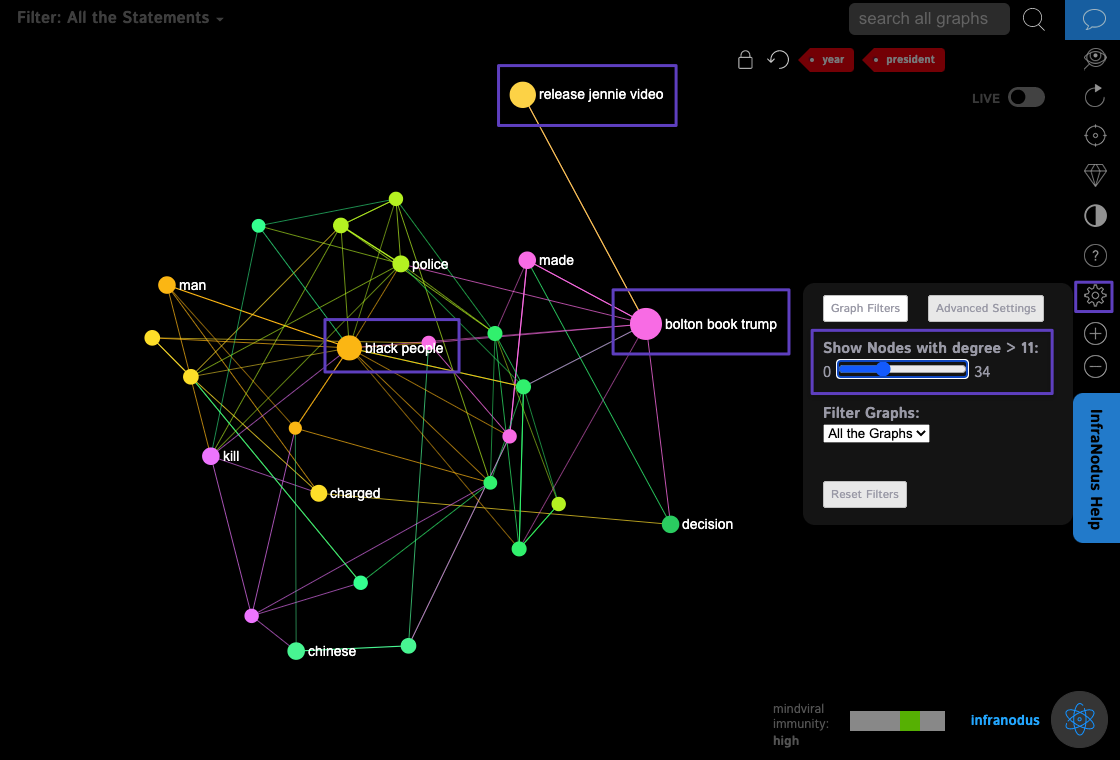 Stage 2: Removing the Main Topics to Reveal Latent Narratives
One of the advantages of merging the nodes into topics is that you can then remove them to see what information is hidden behind them. In order to do that:
Step 1: Select a few merged topics on your graph. E.g. "black people", "bolten book trump", "release jennie video". Then click the delete button at the top to remove them from the graph:
Step 2: Removing the main topics will reveal the latent ones in the discourse. In this case it's "chinese products boycott", which we can then merge into a new topic and continue working with our graph through iterations.
Stage 3: Unlocking the Topics into Nodes
Once you analyzed the topics and you want to unlock the merged nodes back into their original form, you can:
Step 1: Please, select the topic you want to unlock. E.g. "black people". Then click the unlock button (it will appear if only one topic is selected):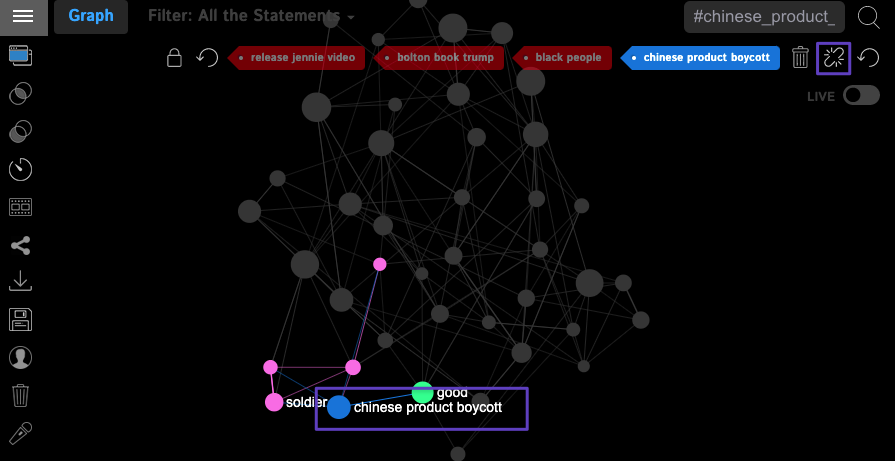 Step 2: The graph will then reload with these terms separated and selected, so you can see the context where they appear. To deselect them, click the back arrow button: