Competitive intelligence plays a crucial role in devising effective marketing strategies. By employing a blend of text network analysis, data visualization, and artificial intelligence, one can swiftly comprehend the current market discourse, pinpointing not only the main trends but also the gaps within.
In this guide, we will showcase the process of utilizing InfraNodus's AI-powered market research features to achieve this. We will show how you can analyze the general market discourse as well as the discourse of your competitors to better understand their strong and weak sides. We will also demonstrate how you can use built-in GPT-3 AI to produce innovative ideas based on this discourse.
The workflow consists of 5 steps:
1) Analyze the current market discourse, reveal the main topics and concepts within
2) Explore your competitors' discourse, understand how they target the market
3) Reveal the gaps in the market and competition discourses
4) Generate new ideas that bridge those gaps
Step 1: Analyze the Current Market Discourse
The first step is to analyze the current market discourse.
The easiest way to do this is using InfraNodus > Marketing > Contextual Supply app, which imports the top search results from Google for any query and shows a graph of the main topics inside and connections between them.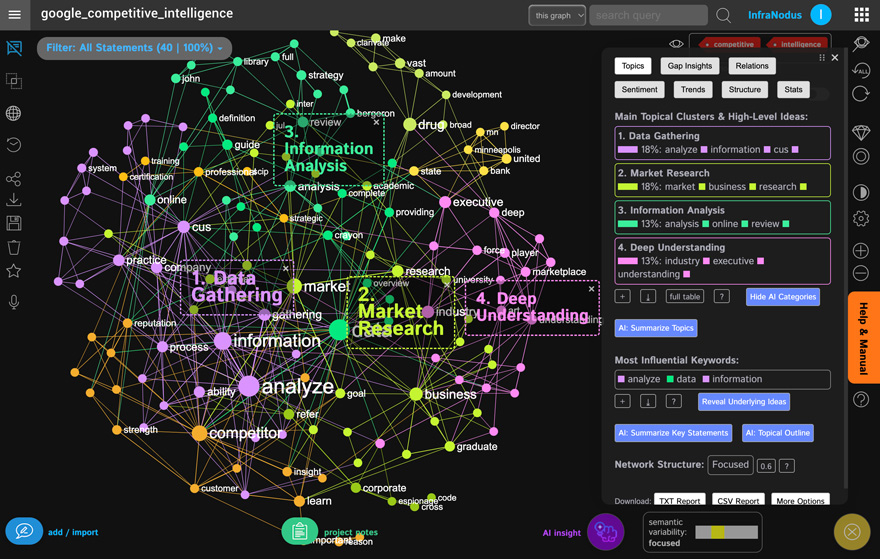 As Google usually retrieves the most relevant discourse in relation to the search query, this is a very good way to understand what's going to get in front of the customers' eyes when they become interested in a certain topic.
For instance, in the example above for "competitive intelligence", we can see that the market is currently supplying information on the following high-level ideas:
Data Gathering
Market Research
Information Analysis
Deep Understanding
If we want to embed our products or services into this discourse, we would somehow need to relate to those topics but also develop them further: either by bringing in novel ideas or connecting the existing ones in a new way.
Tip #1: Add more specific search query data into your Google analysis
Note, that you can import more data into the same context. For instance, you can add the Google search results "competitive intelligence information analysis" to get more specific results. Once you do that, you will see a combined graph for these both search queries, but you can also filter the results obtained for each query in the Statements > Filter menu. You can repeat this in a few iterations.
Tip #2: Summarize the resulting semantic network to get the gist of the market
InfraNodus features an integrated AI-powered summarization engine that can produce a brief overview of the market for you. However, we always advise creating it yourself by examining the concept map's clusters and connecting them in a novel manner. You can use the AI for inspiration, but the ideas you get on your own are always better even if they take a bit longer.
For instance, in the given scenario, we recognize that our venture into "competitive intelligence" should encompass aspects of "data and information gathering" (e.g., multiple import sources, collaborating with data providers), ways to "analyze and evaluate this data" more effectively than our rivals (using sophisticated GPT-3 based AI data analysis tools), and how this analysis can be employed for "market research and competitive study."
Having generated a market summary, we now need to incorporate the unique element that will distinguish our offering from others. We will accomplish this by unveiling the structural gap in the discourse: linking these ideas in a manner that addresses current customer needs. But before we proceed, let's augment our analysis with more detailed data on our competitors.
Step 2: Analyze the Competitors' Discourse
Now that we know what the market is talking about, we already have a good understanding of our competitors' discourse. However, we can get even more precise by analyzing the discourse of our competitors in more detail.
This can be done using the InfraNodus website analysis app, where you can add URLs of the pages/competitors' websites you'd like to analyze how they're talking about their business and offers.
The approach to its analysis is the same as in the graph above: the discourse of your competitors will be represented as a network, the most prominent terms will be shown bigger on the graph, if the terms tend to occur often, they will have the same color. As a result, you can see the main topical clusters for this discourse: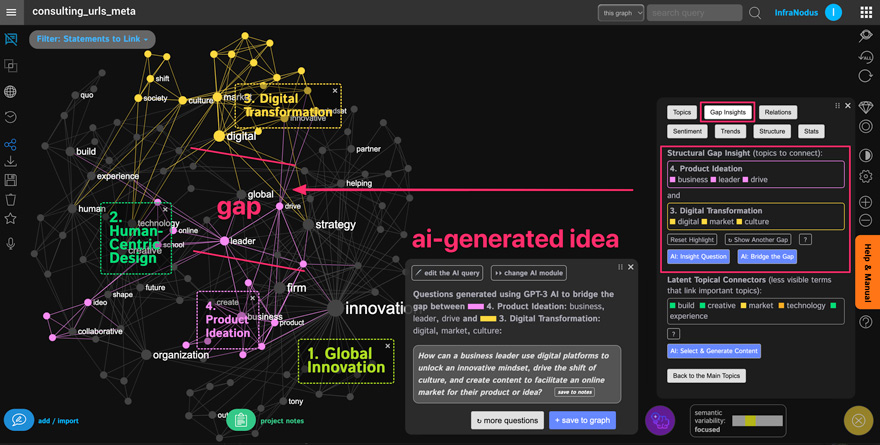 In the example above, we added 20 companies that are involved in "innovation" and we can see the main topics they're talking about:
Global Innovation
Human-Centric Design
Digital Transformation
Product Ideation
We may want to add these ideas to our market overview: e.g. competitive intelligence is focused on market research, data gathering, and information analysis, but in the realm of innovation we need to also talk about how this data can be used for digital transformation and human-centric design.
In fact, connecting discourses together is always a good idea as it helps us associate different ideas in a new way, which may help produce new interesting offers for the market.
Step 3: Detecting the Gaps in the Discourse
The next step is to look at both of these graphs and to reveal what's missing in them. The best way to do that is using the discourse structure: identifying the topics that could be related but are not yet. Bridging this structural gap will usually generate innovative ideas that are relevant to the current discourse (because they touch upon interesting topics), but are surprising, because they haven't been connected before.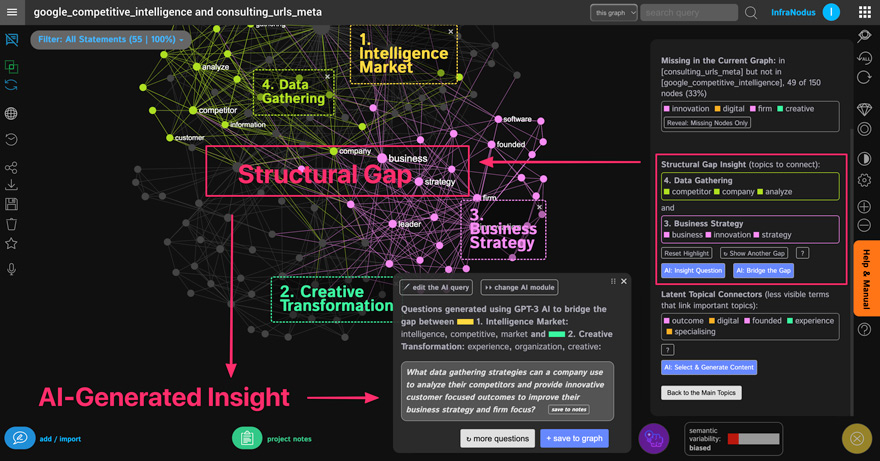 InfraNodus has a built-in structural gap detection mechanism, available in the Analytics > Gap Insights panel.
You can highlight the gap in the network or reload it, to reiterate through several of them. The idea is to identify topical clusters that are not well-related and to think of a connection between them.
You can also use the built-in AI to generate new ideas based on this gap or simply ideate on your own, just reading the concepts and high-level ideas that those clusters represent.