You can use InfraNodus to navigate between different context graphs and ideas in order to see where else they appear.
Suppose you have a document you are working on (in the example above — it's a synthesis of all the dreams logs created by a user — myself, in this case). You can find the concepts you're interested to explore further and see the other graphs of yours where they appear as well as the specific context where they can be found.
You can then click on these nodes on the graph, and, after that, click the "show/hide top graphs" button next to the "selected nodes" menu at the top right.
InfraNodus will load the names of your graphs that contain this concept directly into the current graph. You can double-click these loaded graphs to jump to the part of the text in another graph that contains those concepts: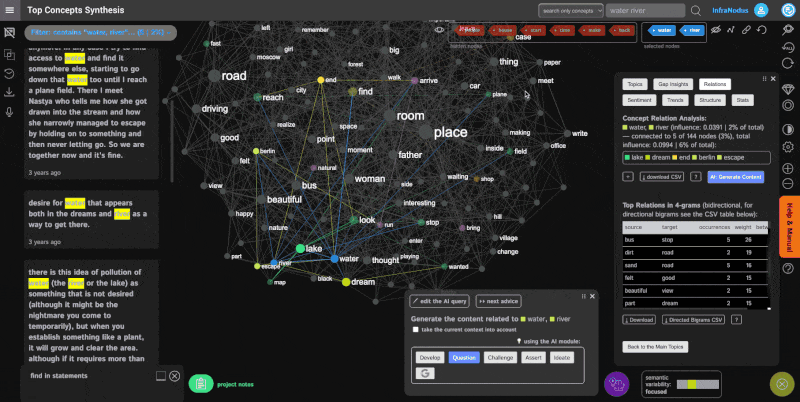 Step 1: Select the concepts on the graph
Step 2: You will see what other concepts they are connected to and in which context they appear in the graph you are currently in (Analytics > Relations panel).
Step 3: To expand the horizon, click the "Show/Hide graphs" button at the top right menu next to the "Selected Nodes" field
Step 4: The top 3 graph names will appear directly on the graph. If you want to see more graphs, use the Search All Graphs search field at the top.
Step 5: Double-click the graph node to jump into that graph.
Step 6: The graph that you clicked will be shown and the concepts you selected originally will be automatically selected in the new graph and you'll see in which context they appear.