You can manage your subscription using the Chargebee self-service portal — the company we use to process your payments. Note that it is a different system than InfraNodus itself (to keep your payment data safe), so you will need to log in separately in order to be able to access it.
Once you log in, you will be able to upgrade or downgrade your subscription in the Chargebee self-service portal and the change will be effectuated immediately.
Step 1: Go to the Subscriptions page if you are logged in or open the Login page and click "manage your subscription.
Step 2: Click the "Chargebee InfraNodus Subscriptions Portal" button to open the self-service portal and then enter your email.
Step 3: You will receive an email with a one-time password. Enter it to log in.
Step 4: Click Manage Subscription. You will then see your subscription. Click on the current subscription and you will see your current payment method and the Edit Subscription button, which you can click to upgrade or downgrade.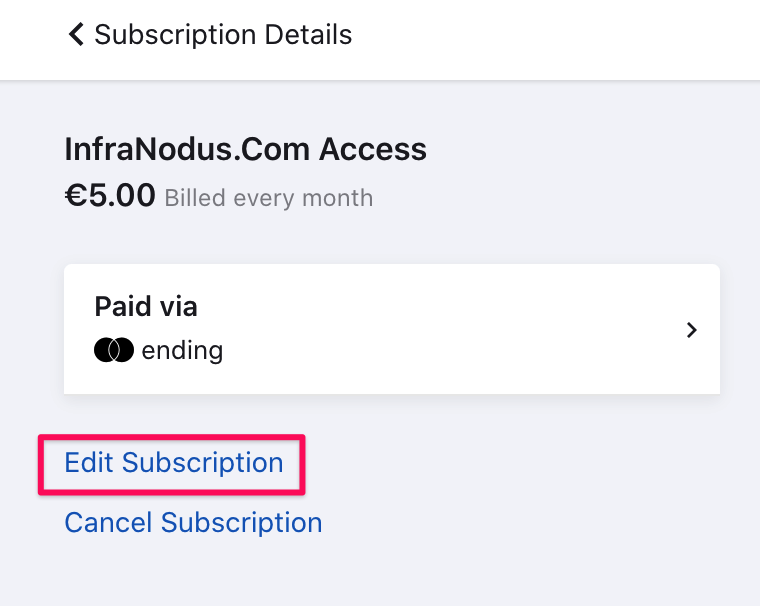 Step 5: Click the "Edit Subscription" button and choose the plan you'd like to upgrade or downgrade to. Choose the subscription and click "Update".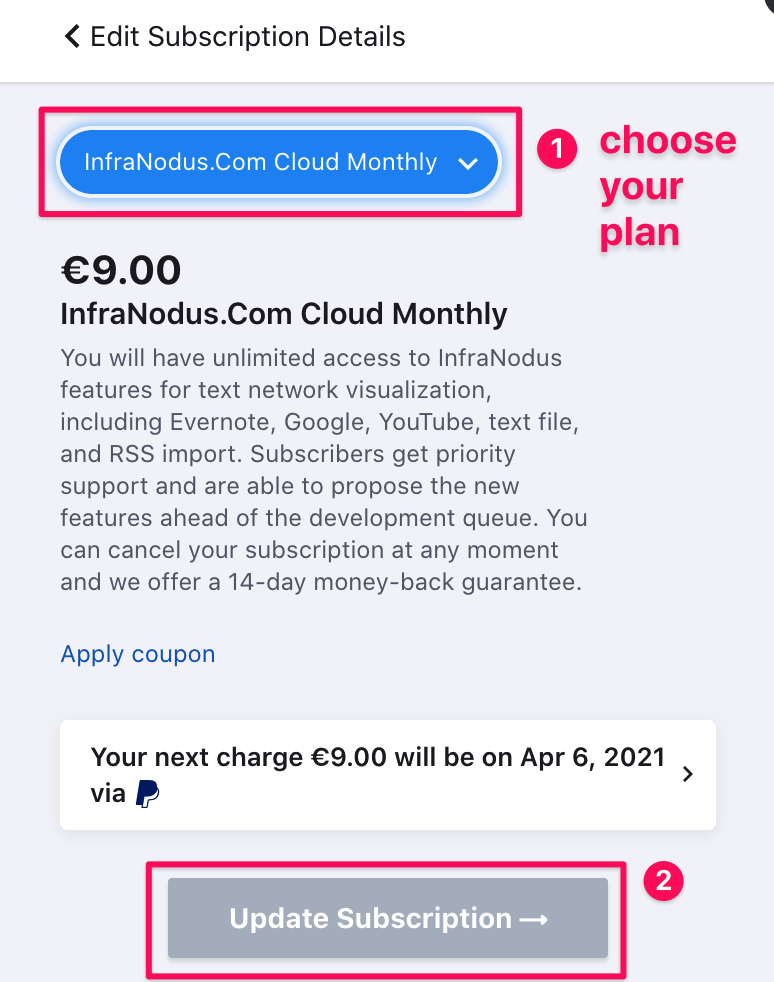 Your charges will be prorated: e.g. if you are on a €9 a month plan and you switch to the €29 plan midway through your monthly billing cycle you will be charged €14.5 and your billing date will stay the same.
Step 6: Once you update your subscription you will see the success message and your new subscription will automatically be updated. You can then come back to InfraNodus and continue using the site.
Frequently Asked Questions
Q: I upgraded my account but I'm still seeing the error messages.
A: Please, log out from your InfraNodus account on https://infranodus.com/logout and log back in. This should solve the issue. If the problem persists, please, contact us via https://support.noduslabs.com/hc/en-us/requests/new
Q: What if I cancel my account?
A: If you cancel your account, you won't be able to create any more graphs. According to our Terms of Service we also reserve a right to delete your account and erase your data after your subscription expires. So if you decide to cancel your subscription, please, export your data before.