You can use InfraNodus to compare different text graphs in order to see how the graphs are similar / different from each other.
In general, there are 3 ways to put the graphs together:
1. Merging the graphs: you merge a graph to another graph if you click the "merge graphs" button at the left menu. You can also click and hold Shift (it has the same behavior). Then select another graph from the menu. You can then add more graphs to the original one. Then you see them all at once.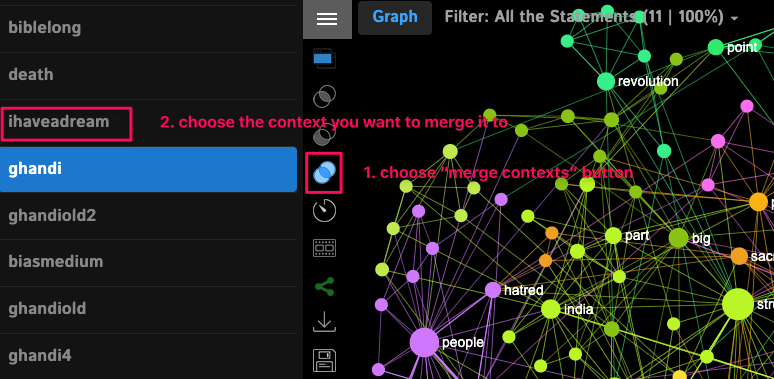 2. Comparing the similarities between the graphs. In order to do that, click the intersection button in the left menu (it will be highlighted blue) and then choose another graph you want to compare it with from the menu: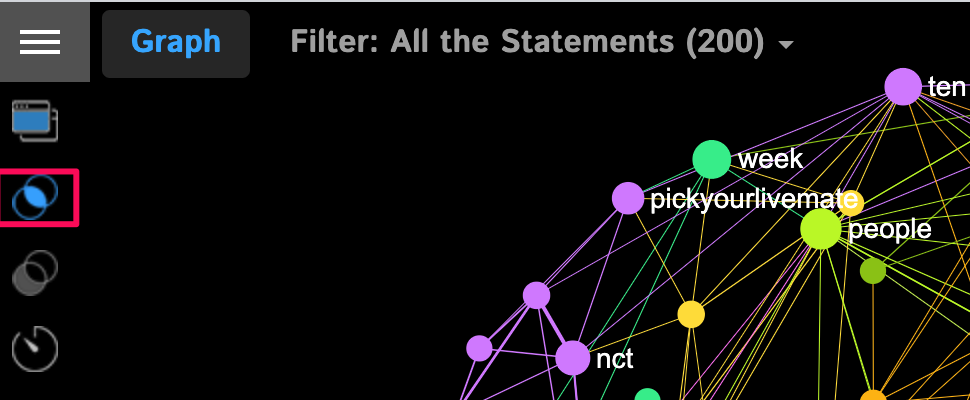 In both cases, you can also use the top menu to filter the graphs you selected:

3. Finding the differences between the graphs. The procedure is explained in detail below:
How to Find the Differences between the Text Graphs:
1. First, you need to define your datasets: what you will be comparing. It could be two different documents or your own text in relation to the general discourse. In our case we will compare a text on a certain subject ("feedback loops") in relation to the general discourse that exists online if we do a Google search on this subject.
2. Add your text to InfraNodus (using the text import or file import apps).
3. Your text will be visualized as a graph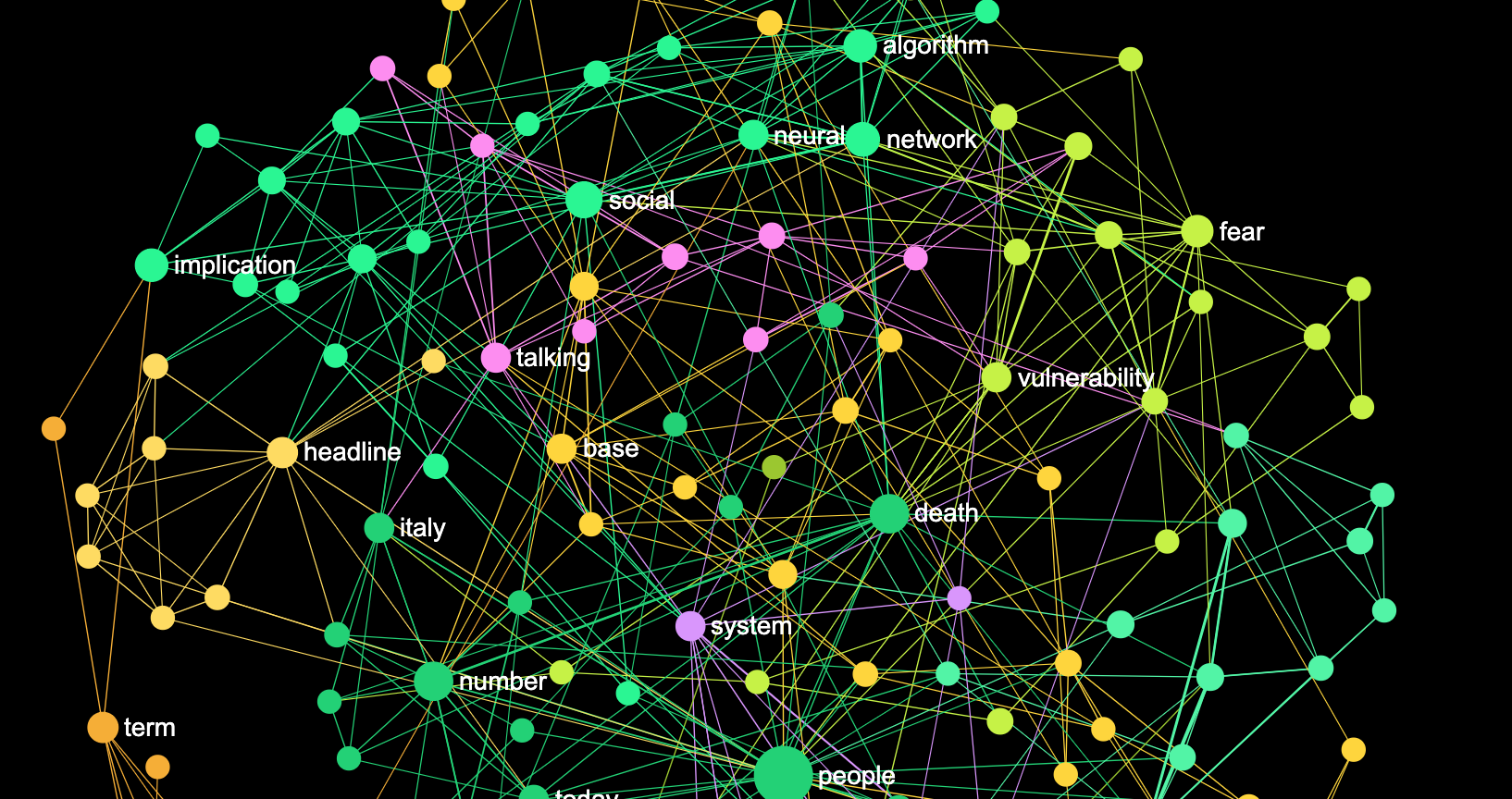 4. Now add another dataset you want to compare it with. You can simply go to the Apps > Google Search App (Menu) or use the + Import Search field in the editor panel (bottom left).
5. Once you added this new graph, click on the Statements Menu > Compare Contexts button. There are two options: to see what they have in common and to see the differences. Choose the button that shows the differences.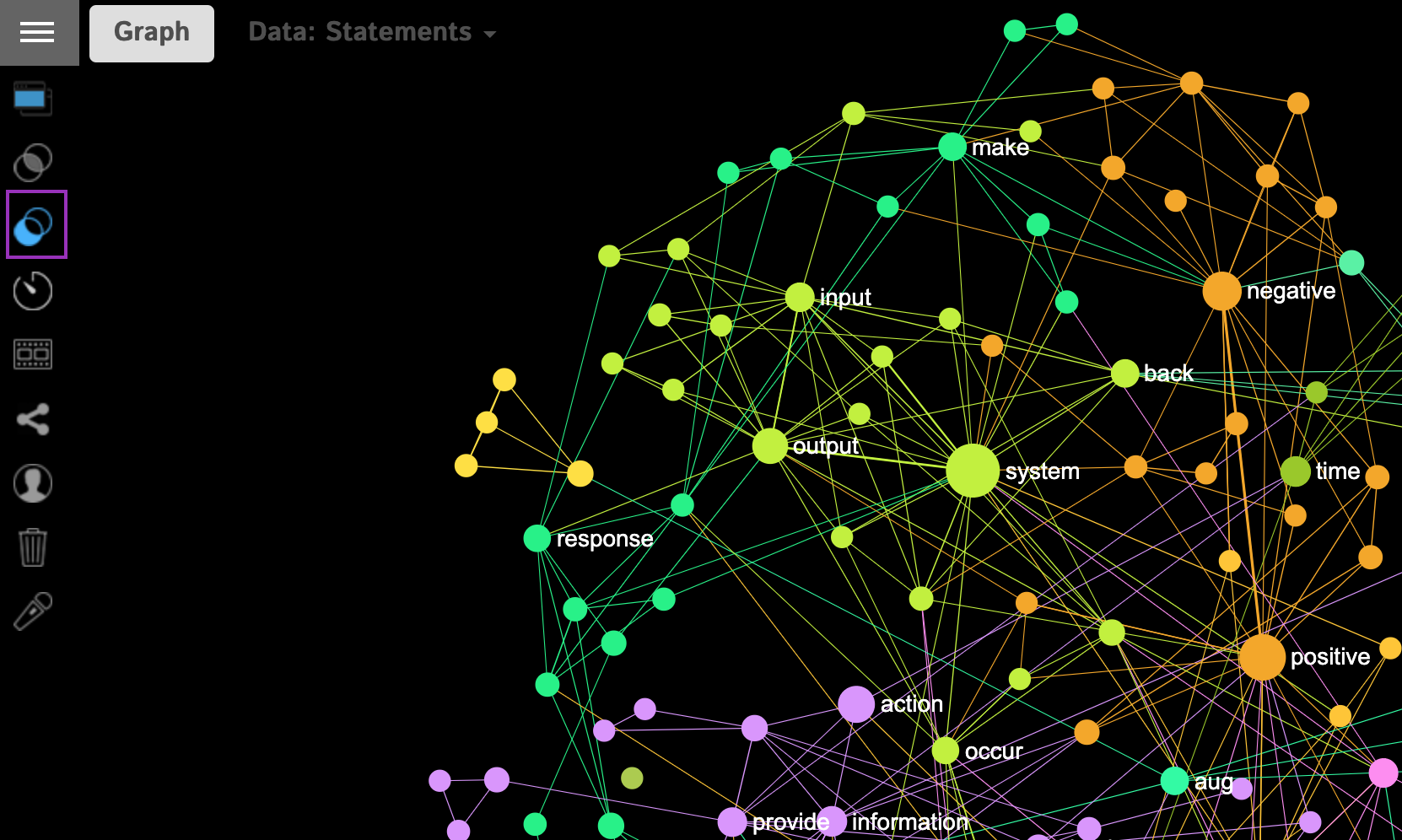 6. Then click the top left menu and choose the graph you want to compare it to (the previous one):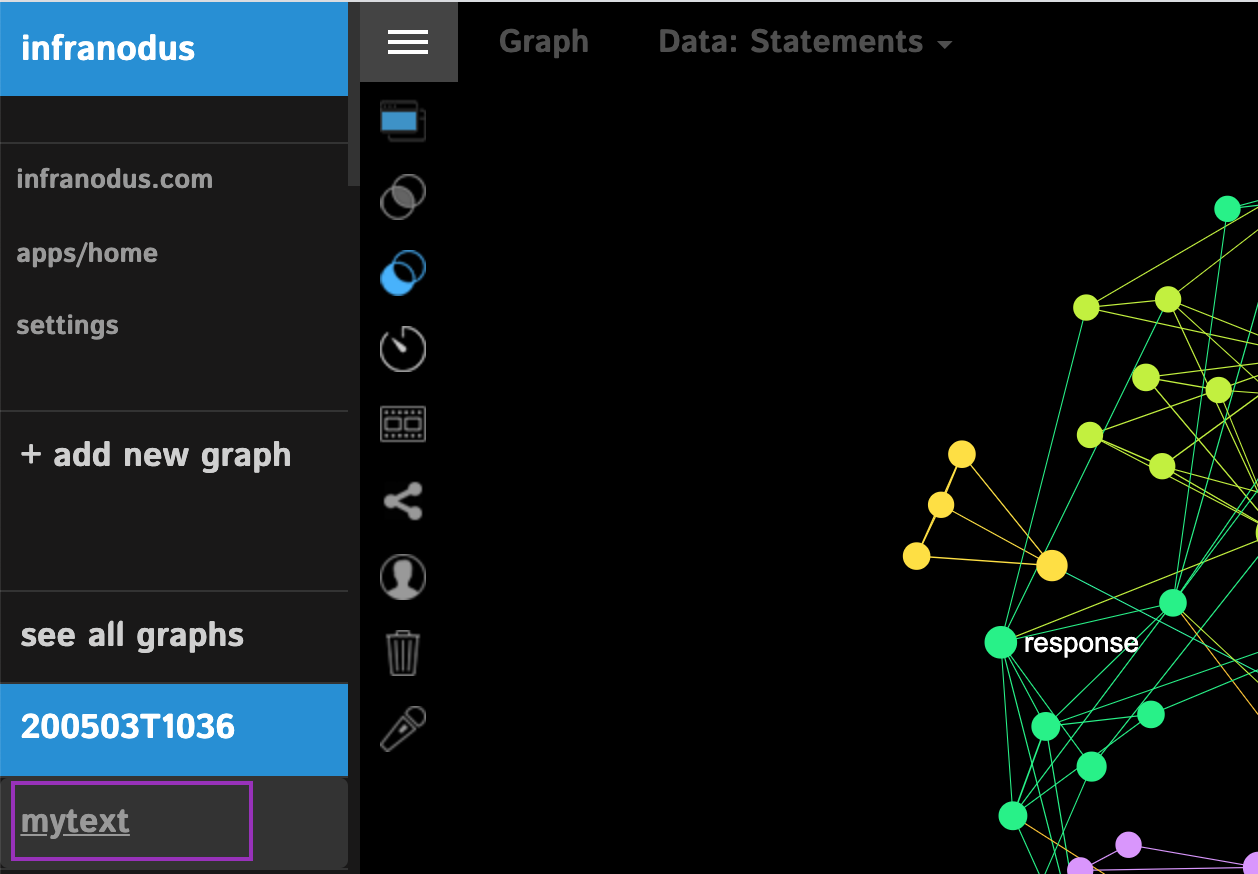 7. Click that graph / text and you will load a new graph that combines the both.
8. Then go to the top statements menu and choose Diff: Additional — Current to see a graph that only shows the difference between the new graph that you added and the one you were comparing it to: what exists in Google search results that does not exist in your original text: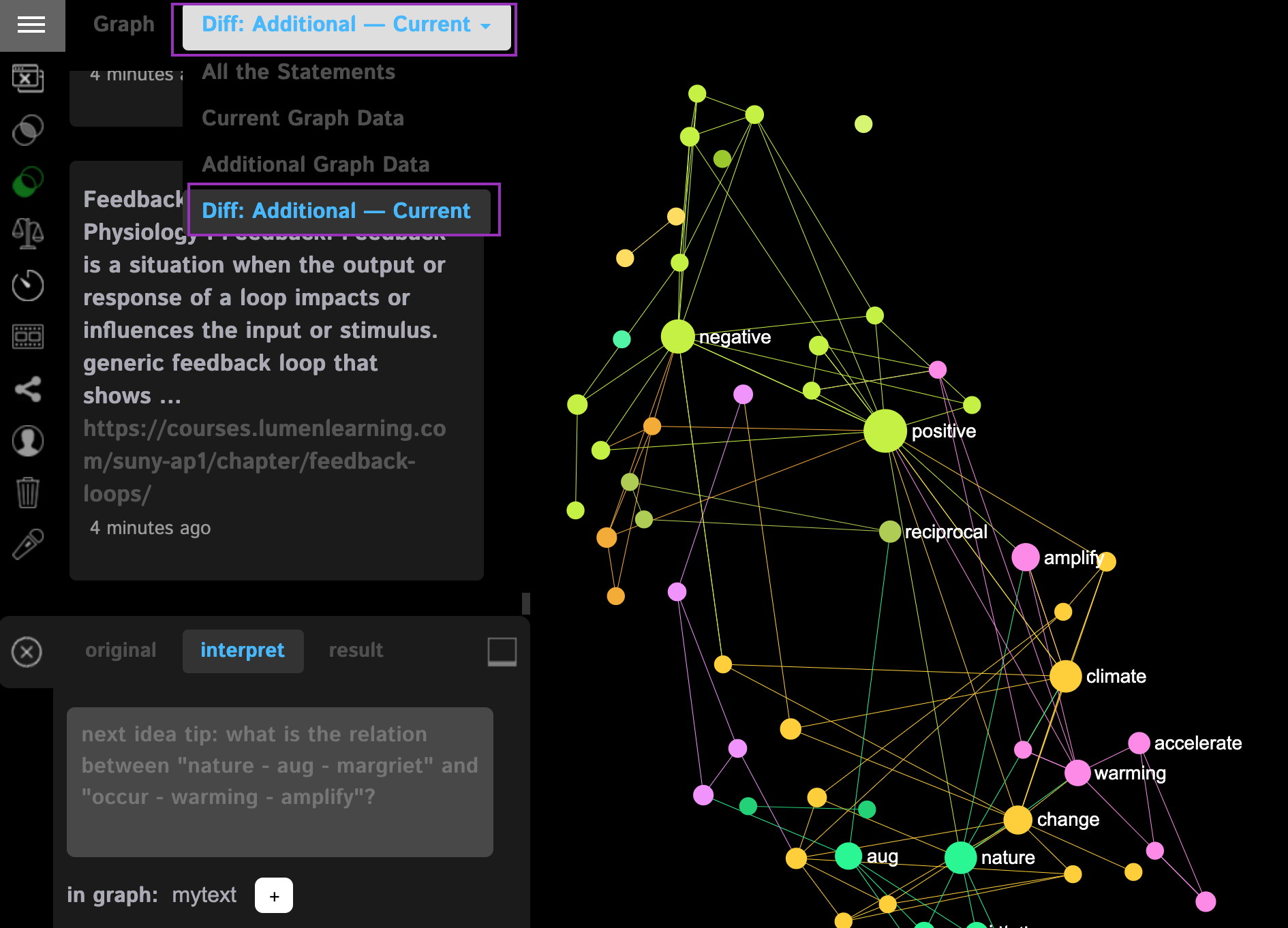 as you can see in our case it's
positive negative climate change nature
Which could be interesting to add into the original text to make it more relevant to the discourse that already exists on the subject.
9. We can also reverse the comparison, so we can see what exists in our original text that is missing in Google search results on the subject (how is our text original). To do that, click the Text Control > Scales button (left menu):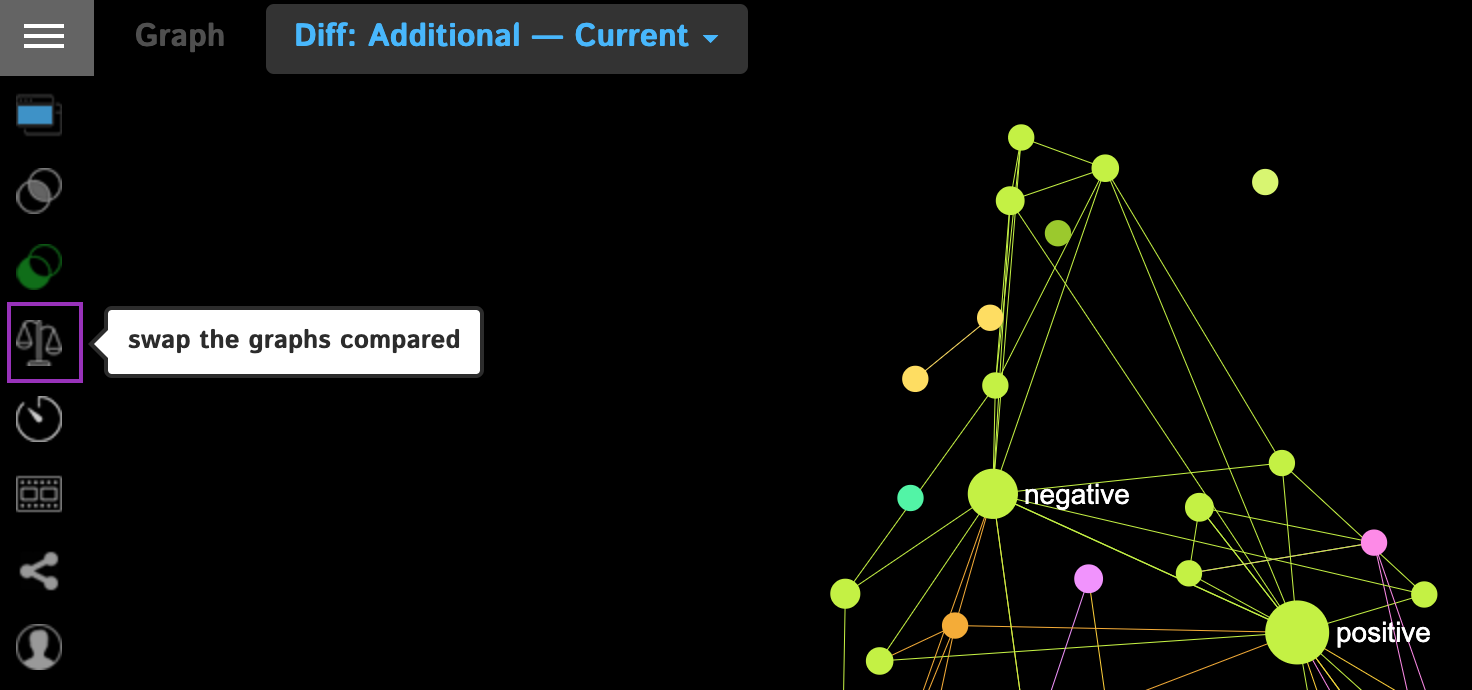 10. We will then see the graphs the other way round: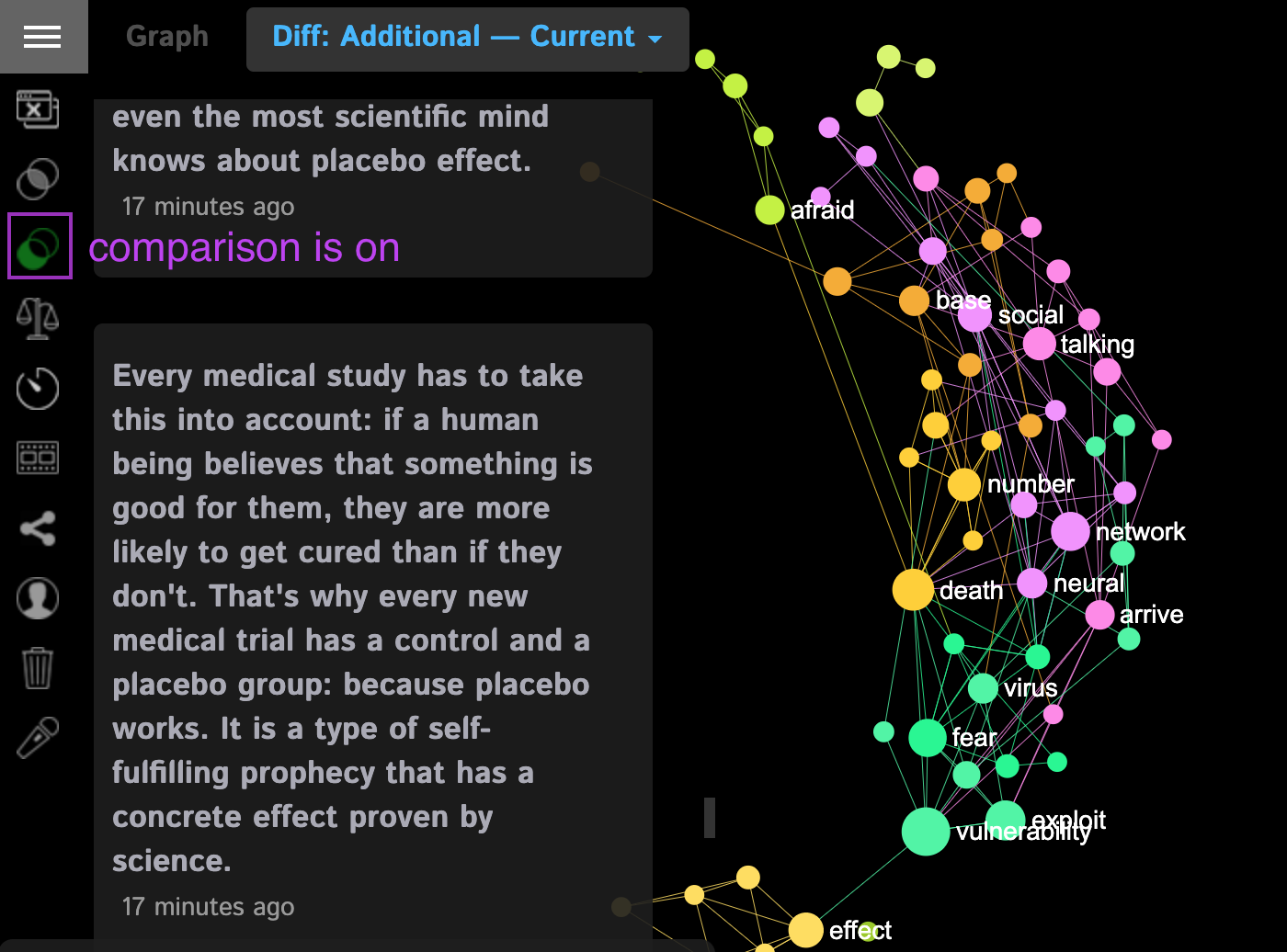 11. Click on the Analytics > Insight to see the most relevant missing terms, the structural gaps (new ideas), and the latent narrative shifters: