You can use InfraNodus to analyze your audio notes and Otter AI transcriptions (or any other transcriptions of meetings, notes, conversations, etc).
This can be helpful when you want to have a general overview of the main ideas inside your audio notes and also reveal the gaps within them, so you can develop your discourse in an interesting way by bridging those gaps.
Transcribing Your Audio Notes: Otter AI and Alternatives
There are multiple ways to transcribe your audio notes. The easiest free way is to simply use ChatGPT app as it has an amazing voice recognition module and it works in multiple languages (which it identifies automatically. You can talk into it and your note will be automatically transcribed. Alternatively, you could also use your phone's voice recognition module. Then you can copy and paste this into a file and send it to your laptop (or save it to your phone) for further analysis with InfraNodus.
I personally like to use Otter AI (I'm in no way affiliated with them) as their voice recognition module (for English) is pretty good and they also provide timestamps and multiple export options. The problem with them is that once you want to do bulk export, you need to get a business account, which costs $40 a month. But you can also export your voice notes one by one for free as plain text files.
Here's a quick tutorial on exporting your Otter AI transcriptions:
Analyzing Your Audio Notes with InfraNodus
Once you have the files exported and saved into a separate folder, you can import them using the InfraNodus audio transcription file upload app (available on the /apps page). It can ingest .txt or .srt (time-stamped) files. We'd recommend using the SRT file format because you can then maintain the structure of your thoughts as they will be separated into paragraphs that represent natural pauses in your discourse.
Once you imported your .srt files (audio transcripts), you will see a knowledge graph that shows the main keywords in your notes (those are shown bigger on the graph) and how they are connected. The clusters of words that tend to occur in the same context will have the same color and those words are closer to each other.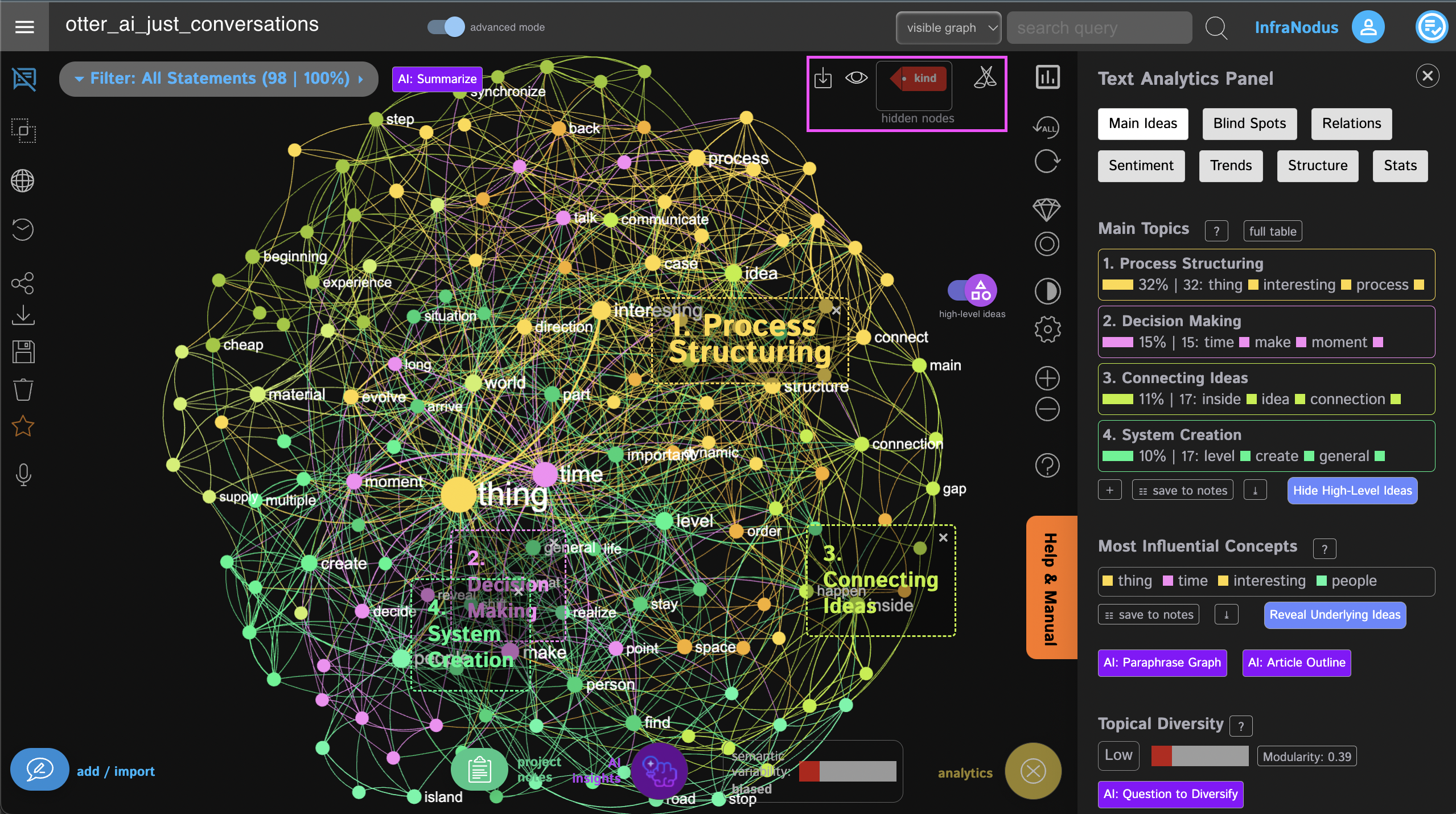 As you can see, we hid the word "kind" from the graph, because it's unnecessary for analysis. We could also remove the words "thing" and "time", but I know that those concepts carry an important meaning in my notes, so I choose to keep them there.
The next step is to identify the topical clusters and reveal the high-level ideas that are shown on the graph:
Process structuring
Decision making
Connecting ideas
System creation
We can see that most of my notes talk about the topics of structuring processes and decision-making logic, connecting ideas, and creating systems that can serve this purpose.
If I'd like this sort of short summary, I can click Analytics > Main Ideas > AI: Paraphrase Graph button to generate a synthetic summary of my ideas with GPT-4:
"People often use interesting processes and structures to connect events and ideas over time and help them decide what to talk about in the moment. These tools help to reveal a greater understanding of the connections between the main ideas as well as create redundancy by having multiple levels of specific and general systems in place. Interesting people are often the driving force behind the development of these things over time."
Note, this is not a real summary, this is a synthesis. If you'd like to get a summary that is more connected to the original text, you can also use the AI: Summarize button at the top. I personally like synthetic summaries more, because my intention is to generate new ideas rather than reinforcing the old ones.
Diving In the Specific Details
You can then click on each keyword or topic to explore what you said about particular concepts: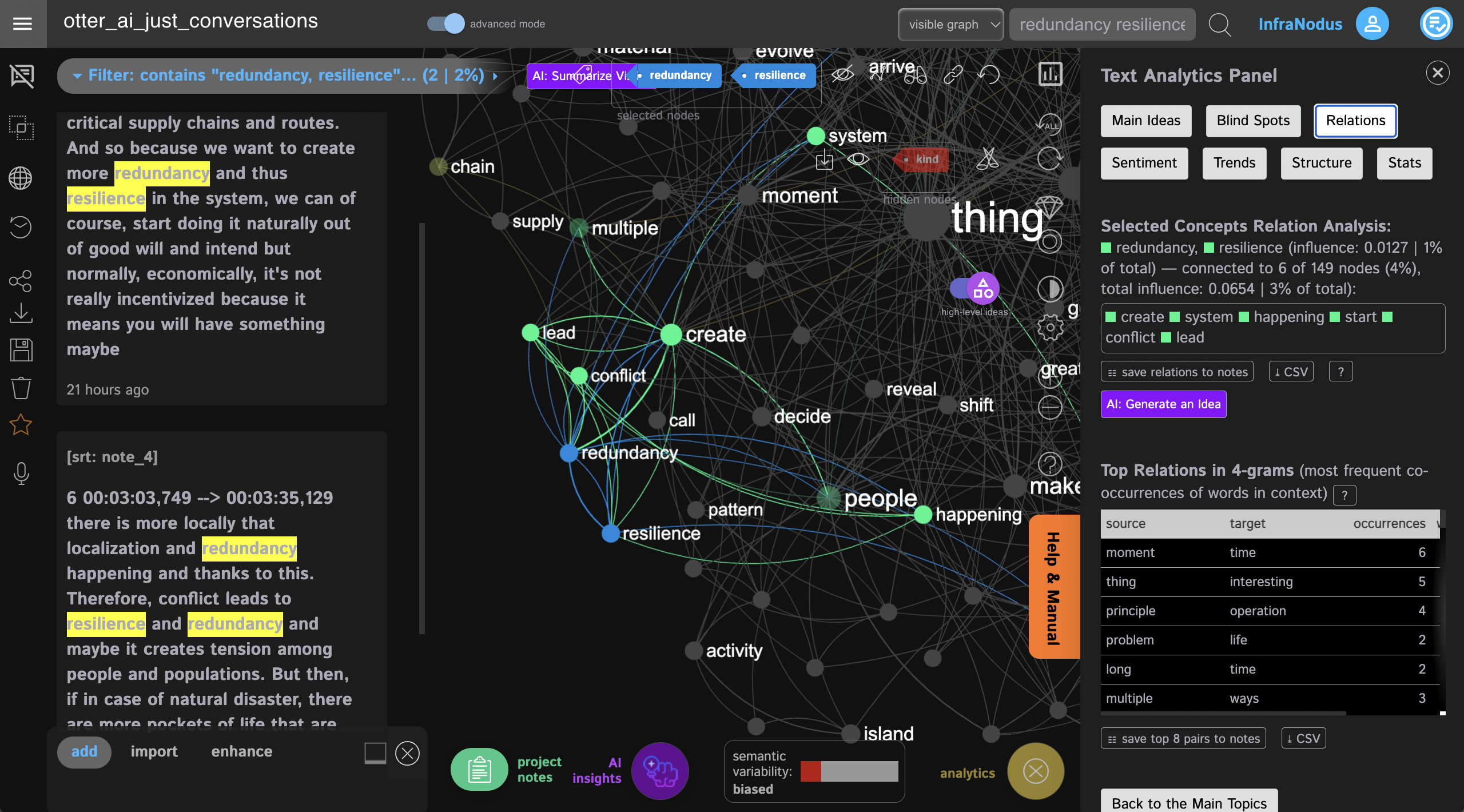 For instance, here I saw the word "redundant" in the synthesis above and I want to know what I said about those topics.
I click on "redundant" and "resilience" in the graph to see exactly the things I said about those topics. They are shown in the text panel on the left highlighting the context.
The Analytics > Relations panel on the right shows what those concepts connect to, so I can easily see related keywords "create", "system", "conflict", which make me think of this idea I had how one positive outcome of world conflicts is that they increase localization and redundancy thus making systems more redundant. I could decipher it myself from the highlighted statements and the Relations panel, but i also could use the built-in AI and click "AI: Generate an Idea" to generate a synthetic thought based on those keywords:
"Creating a resilient system involves redundancy to tackle conflicts that may arise. A start in this direction could lead to effective adaptability, turning any happening into an opportunity for growth."
In fact, an interesting interpretation of my idea made the other way around, which I can save in my research notes for further analysis.
Finding the Gaps in Your Transcriptions
Once you analyzed the content of your transcriptions it is time to find the gaps within them, so you can develop those ideas further.
InfraNodus can do that by identifying the topical clusters in your text and finding which clusters are not well-connected. You can do that visually by looking at the graph and identifying those topics or using the Analytics > Blind Spots (Idea Gap) panel.
Click "Highlight the Gap" and InfraNodus will do that for you. Click "Show another gap" until you see the two topics that are not well-connected that you feel could be interesting to bridge with new ideas: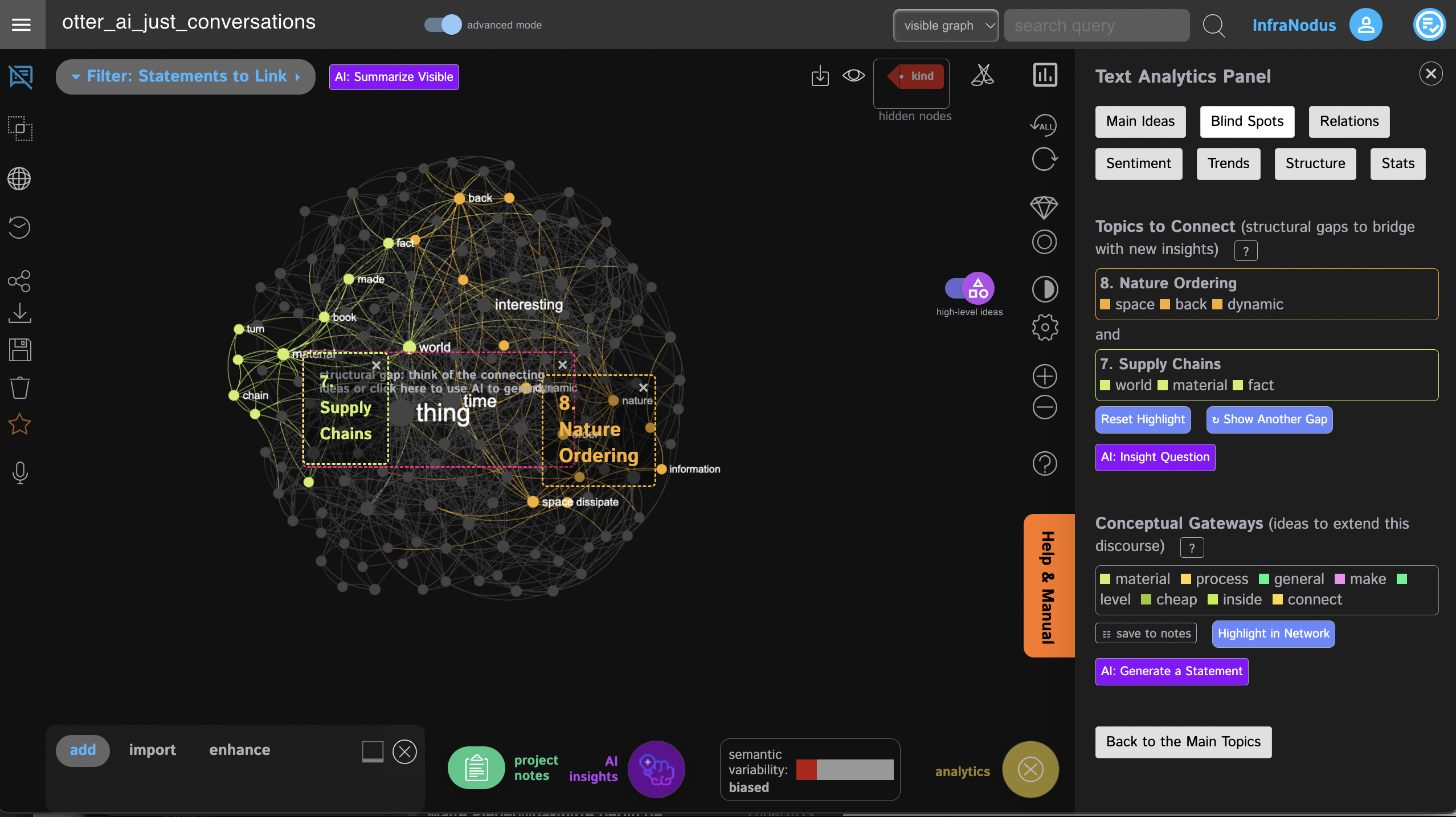 Here InfraNodus proposes us to think of a connection between "Supply Chains" and "Nature Ordering" — in other words, how the production supply chains affect nature (and the other way round). I mention these two topics in my notes but they are not sufficiently connected, so here's an opportunity to link them better and think of an interesting relation.
To read more on structural gaps, please, see this article: Structural Gaps as the Source of Ideas