Below you will find a basic text analysis and diagnostics workflow based on the InfraNodus research framework. Its objective is to induce cognitive variability and produce multiple perspectives on any discourse. This approach helps you to alternate the scale of perception (zooming in / zooming out) and intent (focus / exploration). As a result, you can understand both the surface and the deep layers of any discourse, discovering the main topics but also the structural gaps contained within.
This workflow is available on every InfraNodus visualization through a menu at the top right. As you go along the workflow items, you can mark them off as completed or click "Show" to see which menu elements correspond to each of them.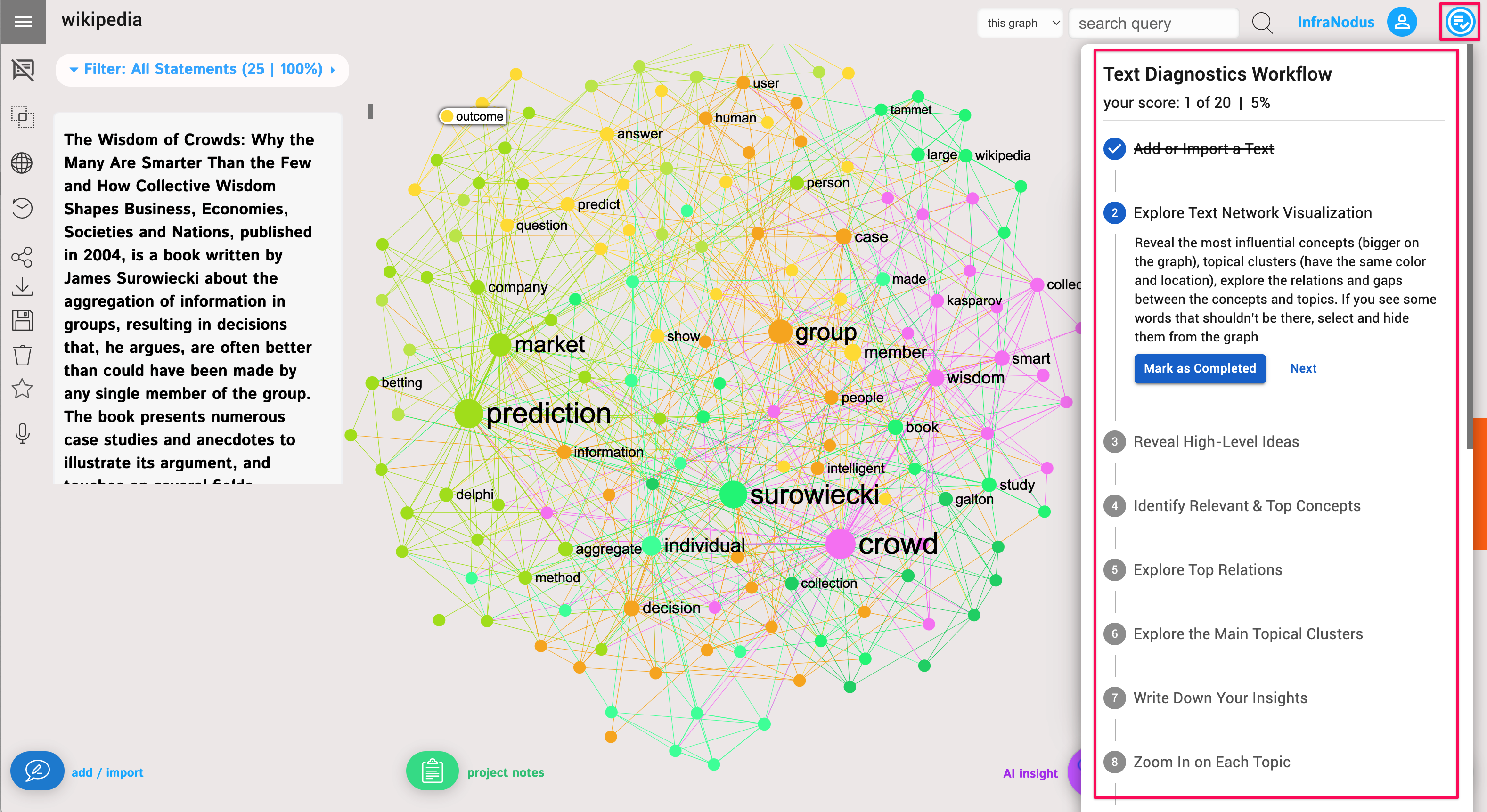 ...
Text Diagnostics Workflow Outline
1. Choose a Topic or Text
You can copy and paste your text, upload, or import Google search results or GPT-3 AI ideas.
2. Explore Text Network Visualization
After you add the text it will be visualized as an interactive network graph. Use it to explore the relations between the concepts inside and reveal recurrent patterns of meaning circulation.
3. Identify the Most Influential Concepts and their Relations
The most influential concepts are shown bigger on the graph. Relations will show which tend to co-occur in the same context.
4. Discover the Main Topics
The Analytics Panel > Topics panel reveals the main topics in the text. The main topics are formed by the topical clusters in text: the concepts that tend to often co-occur together in recurring patterns
5. Reveal High-Level Ideas
Select AI: Show Categories to reveal high-level ideas that the main topics belong to.
6. Write Down Your Insights
Reformulating ideas in your own words helps you to understand and retain them better.
Use the
Project Notes
panel to write down the insights you have so far.
7. Zoom In on Each Topic
Select some topics in the Analytics panel to see what groups of concepts belong to them and to understand each one of them a little better.
8. Locate Pertinent Ideas in Discourse
Locate some concepts that are relevant for you personally on the graph and click on them to see the corresponding text passages containing them.
9. Reveal the Structural Gaps
Some of the
topical clusters
or
concepts
inside the text are not well connected and produce
structural gaps
in the network. These gaps can be used to
generate insight
because they
connect the ideas in new ways
that are still
contextually relevant
.
Select
Analytics > Gap Insight
panel to
reveal the structural gaps
in this discourse.
10. Bridge the Structural Gaps
Think of a
research question
or an
idea
that can bridge the structural gap. Use
GPT-3 AI
for
inspiration
, if needed (we recommend using it to generate questions but to answer them yourself).
Click
"Show Another Gap"
to load more structural gaps. Bridge them with your ideas or AI.
11. Save Your Ideas & Questions
Reformulating insights helps to define and retain them better. Save some interesting questions and ideas that you or GPT-3 AI came up with so far.
Save the
research questions
and
ideas
you generated using the AI into
Project Notes
.
12. Question | Challenge | Ideate with AI
Use the AI Insight panel to generate more ideas, assertions, challenges, and questions. Edit and save what you like to your Project Notes. Run a few iterations until you exhaust possibilities. Use Analytics > AI: Summary buttons to generate outlines for the text or selected topics.
13. Reveal Underlying Ideas to Explore Nuance & Peripheral Ideas
Remove the most influential concepts from the graph to reveal the
underlying ideas
around them. This will help you extract the
nuance
and explore the
peripheral topics
that make a discourse special and can potentially serve as
low-barrier entrance points
.
You can use the
Analytics > Reveal Underlying Ideas
button or select and hide the biggest nodes directly in the graph.
14. Reiterate: Overview → Zoom In → Gaps → Ideas
Repeat steps 3 → 13 to get an overview and discover the gaps between ideas on deeper levels.
15. Save the Graph State and Reset the View
Once the possibilities are exhausted, return all the hidden nodes in the graph and reset the graph, to bring it to the original shape. If at some point of your research you want to save a state
16. Import More Data
You can add more files or import more data into the graph to explore more ideas.
17. Finalize Your Project Notes Insights
Once you're done, create a summary or an outline of your project notes using the built-in GPT-3 AI.
18. Share Your Results
Export your notes with the final summary and write / generate a new article or create a new graph.
...
Step by Step Tutorial on Using this Workflow