Previously, we have shown how InfraNodus can be used to analyze a discourse in a certain industry using CrunchBase data in order to reveal the hot topics, the buzzwords, but also the structural gaps in the current market.
In this article, we will show how you can use CrunchBase data to analyze social networks of investors and the companies they invest in. We will export CrunchBase's data for a certain industry and identify the main clusters and cliques of investors as well as the most important players in the field.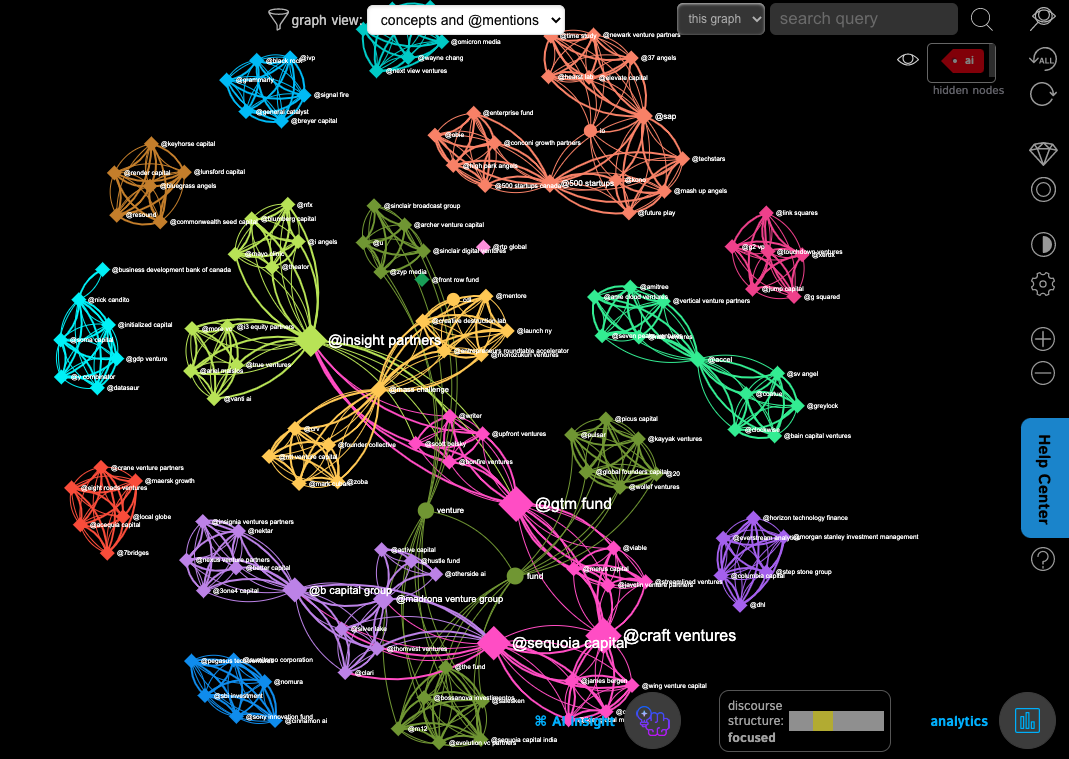 In the end, we will get to something like we have on the graph above.
There you can quickly see what are the most influential funds in a certain industry (e.g. GTM fund, Craft Ventures, and Insight Partners) in our search for "AI" and "Productivity Tools" companies.
You can also compare different industries to each other, so you can reveal overlaps between different investment networks and find the most relevant investor in every niche.
We explain below how it works step by step.
Step 1: Export the CrunchBase Data
You can use the CSV export on CrunchBase Pro account or get the data via your browser.
In order to get the correct details, you need to generate a table that will contain the following information:
1. Organization Name
2. Top 5 Investors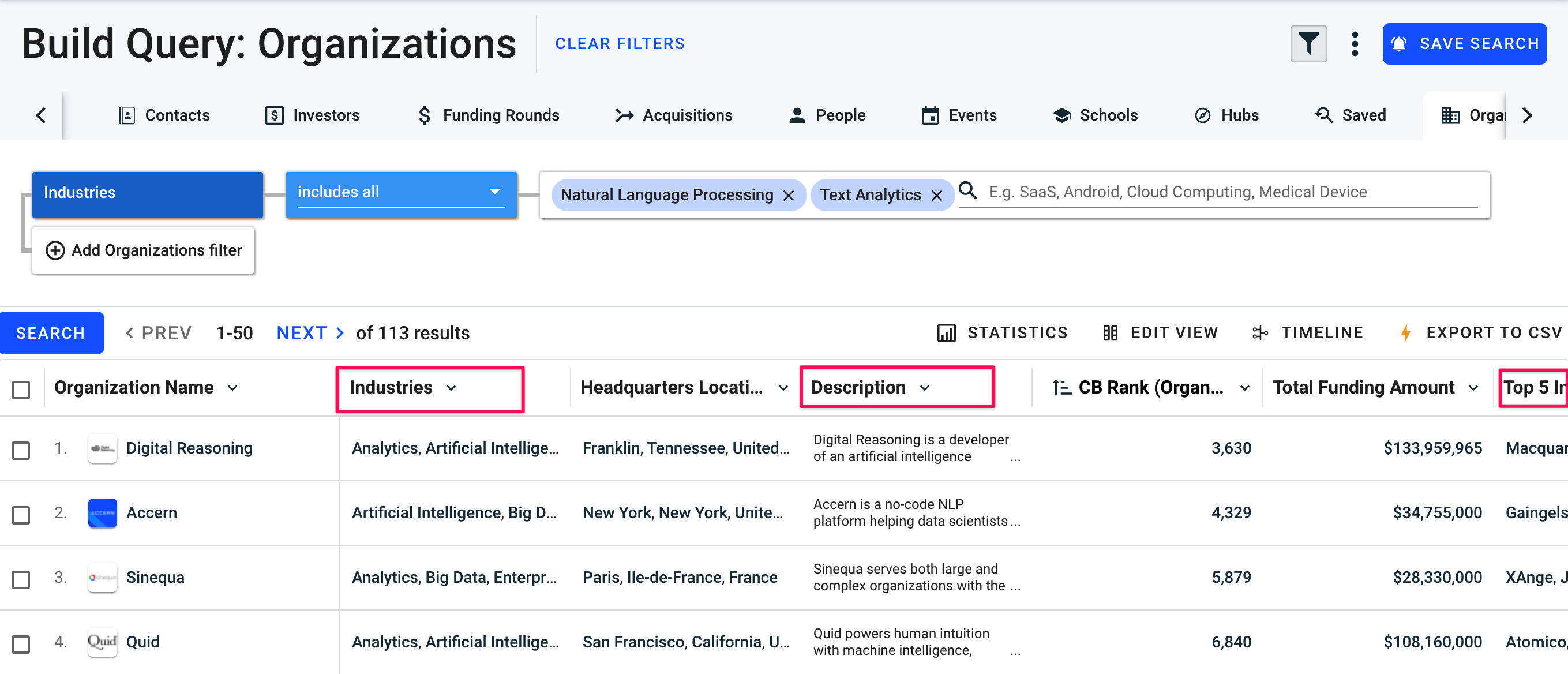 Step 2: Fix the Cell Value
Open the downloaded CSV file in Google Sheets and then add two more columns: @Organizations and @Top5Investors.
Then copy and paste the values from the Organization Name column into @Organizations column and add a @ (mention) to every record. Replace every space with an underscore _.
Finally, copy and paste the values from the Top 5 Investors to @Top5Investors column. Add @ to every investor name.
Note, you can also just leave the values as they are but the above method is more precise. A macroscript is available to InfraNodus Premium subscribers.
Step 3: Import the Data into InfraNodus
Go to InfraNodus Apps > CSV Import.
Preview the file.
Columns to be imported: @Organization and @Top5Investors (both columns, using Shift or Command button)
Click Save
Step 5: [Optional] Combine Several Graphs
We visualize the results for the search query on "AI" AND "Productivity Tools", as well as the "Text Analytics" AND "Natural Language Processing" search query, because we are interested to see a social network for the investors who are into these 4 fields.
You could also only do a search for 2 categories to have a less specific field, in which the network will be less sparse.
Step 6: Visualize the Investors' Social Network
Every (top 5) investor, as well as the company they invested to are shown as nodes on the graphs. Both have an "@" prefix, which indicates entities in InfraNodus' network graph.
We can now see if there are any clusters of investors who are connected to both industries we're interested in: the "AI productivity" one and the "text analytics" one.
Step 7: Perform Social Network Interpretation
We identified first the biggest, most active nodes, such as @500_startups and @SAP.io but upon inspecting the companies they invested in, we were not interested in exploring them further, because their portfolio did not look very alive. We also were not interested in accelerators. (all 3 crossed out on the image above)
We then identified @Greylock and @SV_Angel — venture companies that invested into successful and interesting products, such as Netbase Quid, Reuter's ClearForest, and Clockwise. (highlighted in green on the image above)
We saw that they are interested both in text analytics solutions and data science, but also in AI productivity tools — a niche that InfraNodus is currently taking.
If we were looking for funding, we could contact those two venture companies as our profiles seem to fit.