Consider a network where every node has a measure of global influence (e.g. based on betweenness centrality). Both social networks and text networks represent a certain process that happened in time. If we simply look at the structure of the network, we can see a snapshot of this process and general tendencies on the global level.
For example, a dispersed network indicates that certain nodes interacted more often than others and that there is a strongly pronounced community structure present in this network. This information, however, will not inform us about the nature of the dynamics behind that process. It could be that as the process evolved, we jumped from one cluster to another. It could also be that we stayed in the same cluster for a prolonged period of time and then moved on to the next, and so on.
This is where influence propagation measure can be useful to understand the nature of this dynamics.
In InfraNodus, we assign a measure of influence to every node on the global level, based on betweenness centrality.
We then build a graph, available in the Network Structure panel, which shows how the influence propagated over time: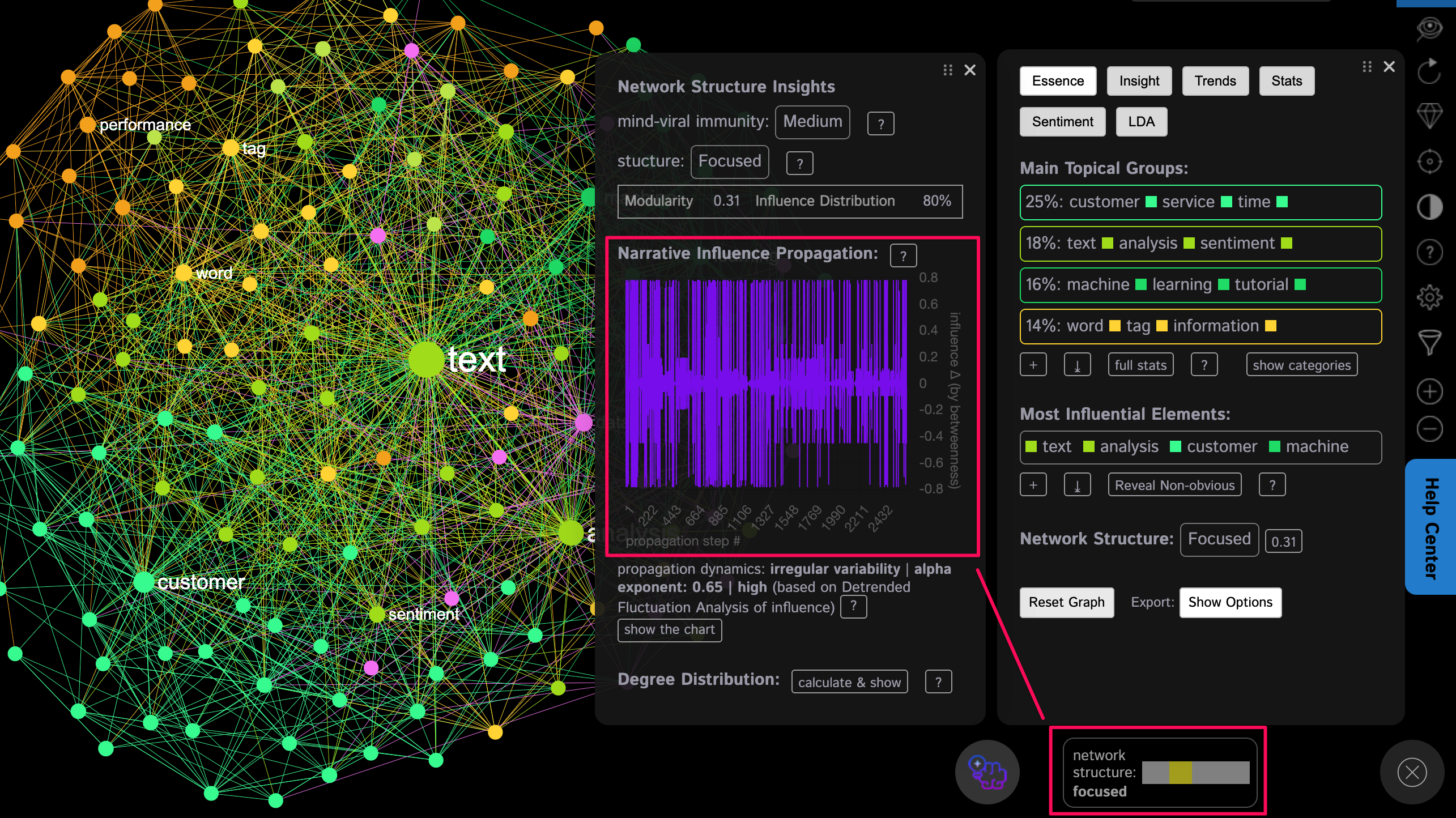 The horizontal X-axis shows the sequential number of the node (word) in the total sequence. It takes into account the unique occurrences of the lemmatized nodes, minus the stopwords.
The vertical Y-axis shows the difference of the influence (BC-based) in relation to the previous node, indicating how much the influence changes after each step.
On the graph above, we can see that while at the beginning of the text the influence propagation was relatively rhythmical (frequently occurring big jumps in influence), towards the middle of the text the influential nodes started to occur less often, influence propagation becoming less regular.
Based on these observations, we can say that towards the end of this (text) network, the narrative propagates based more on the smaller, less influential concepts, zooming into specific topics and exploring the detail.
We also use this measure to calculate the alpha-coefficient of narrative propagation, yielding a quantitative score that shows how regular / irregular this propagation is.