You can use both KeywordGraph.Com and InfraNodus to extract keyword suggestions from Google and to know what else people search for when they use a certain search query.
This can be very useful if you're looking to create relevant content, as you will better understand the current informational demand.
We provide two sources of information: Google keyword suggestions (default) and Google Adwords suggestions.
Google Adwords suggestions are the keywords that Google Ads shows as related keywords using their Keyword research tool.
Google keyword suggestions are the automatic suggestions that are shown on the SERP page when you search for a certain query: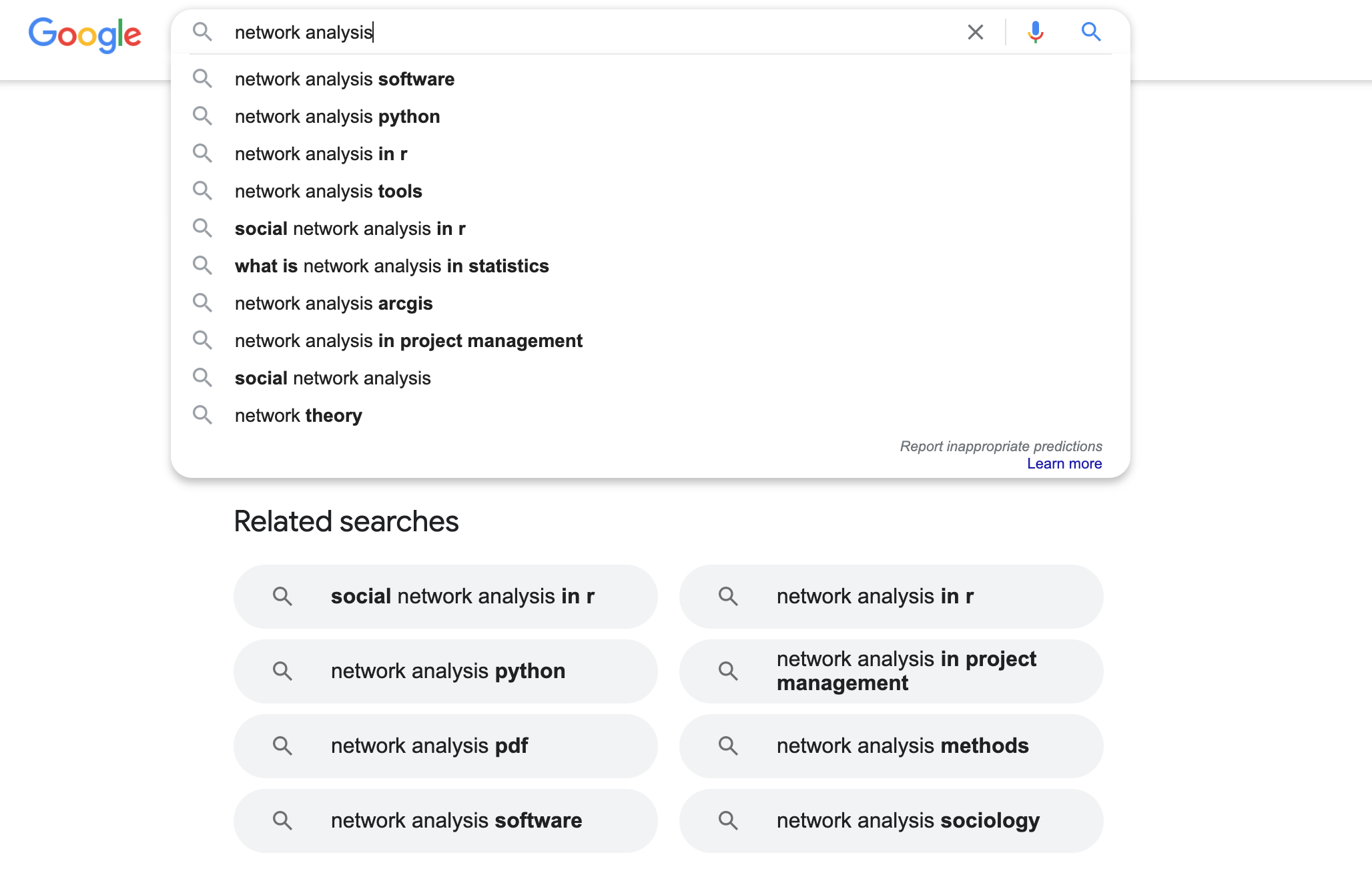 Our system will automatically import these related keywords for any search query and visualize them as a graph.
You will see which keyword combinations tend to appear more often and what topical clusters they form.
This will help you create higher-quality content that caters to the needs of your readers.
For example, let's try this with "martial arts" ("arts martiaux" in French):
...
Step 1: Open the Apps page / SEO app

...
Step 2: Type in your search query, choose to show related keywords only: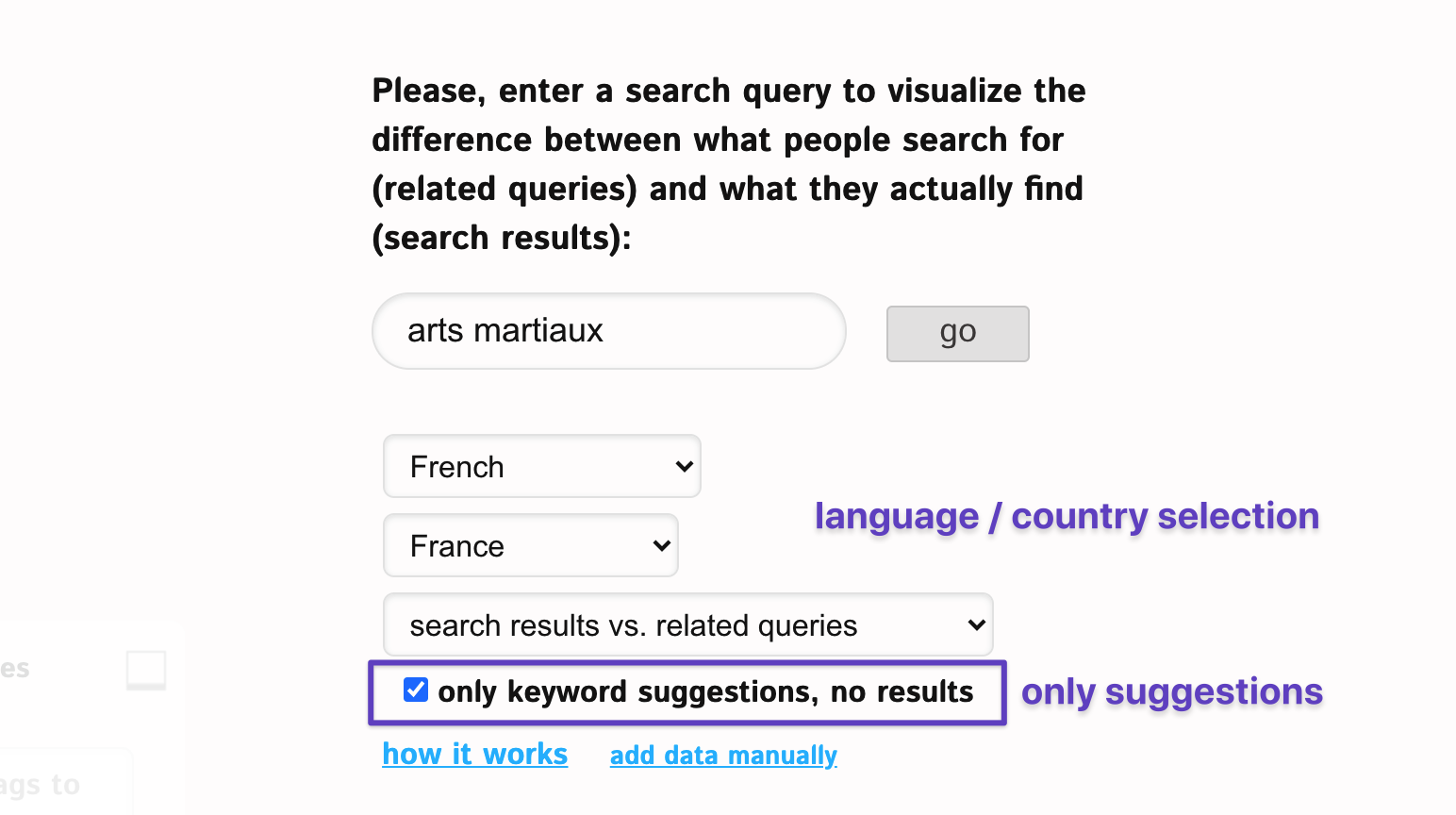 ...
Step 3: Visualize the related keywords results, detect the most common patterns, estimate the keywords' popularity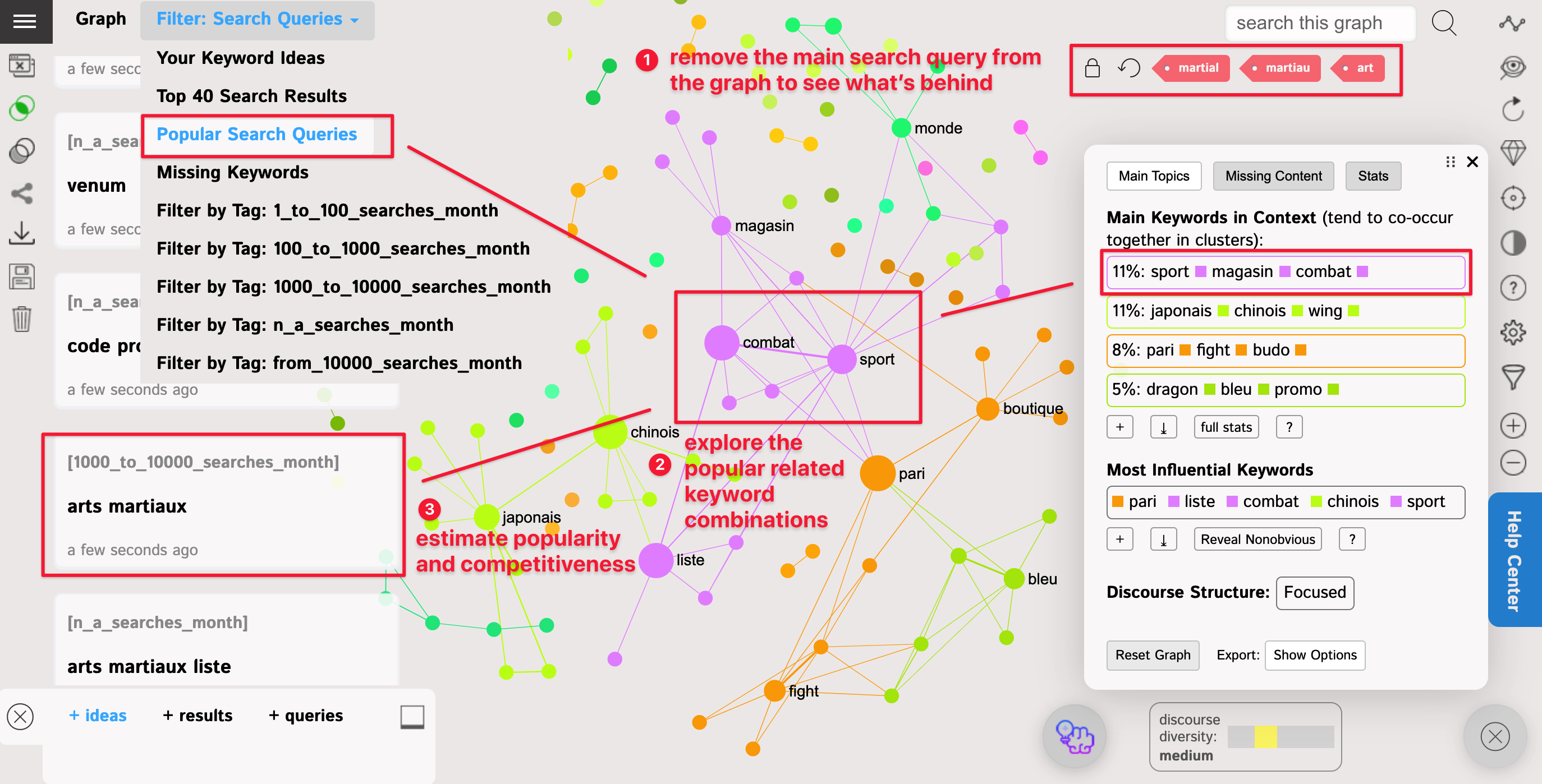 Note: the keywords used in your original search phrase will be removed from the graph, so you can see what's hiding behind (the context). You can get them back by clicking on those removed nodes (top right) or remove more nodes by clicking them in the graph and then clicking the delete button.
...
Step 4: Find the most relevant keywords by looking at the most prominent patterns on the graph. Click on the nodes to see the context they're used in. Then add them into your keywords ideas: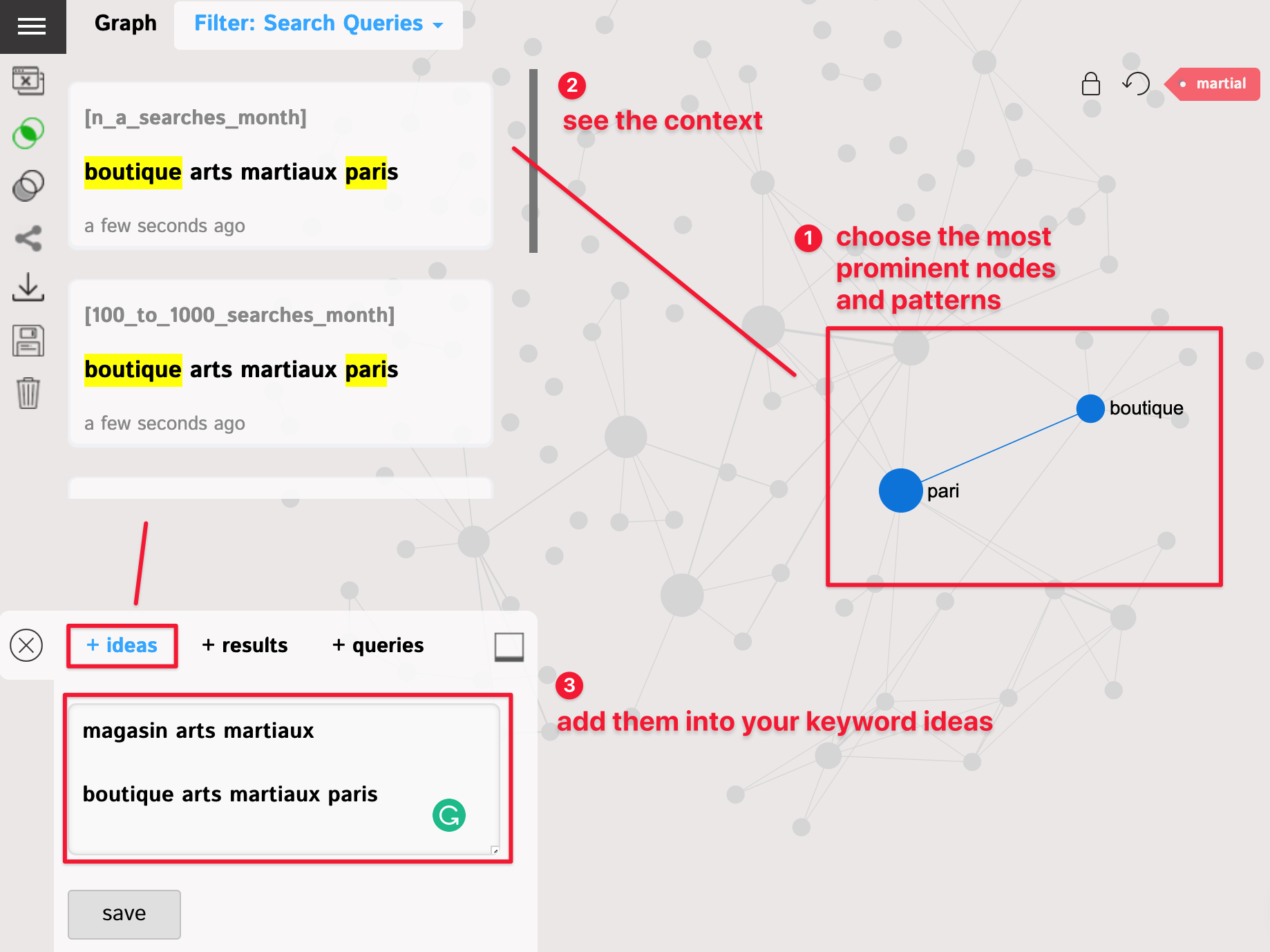 In this case, we noticed that people search for martial art shops and boutiques. So we know that this is something relevant and interesting for our audience and we will add this as keyword ideas. For instance, we could create a page that lists the best boutiques / shops for the martial arts or even create an online store ourselves.
...
Step 5: Your keyword ideas will appear in "Your Keyword Ideas" section at the top. You can export them as a text or a CSV / spreadsheet file for further analysis.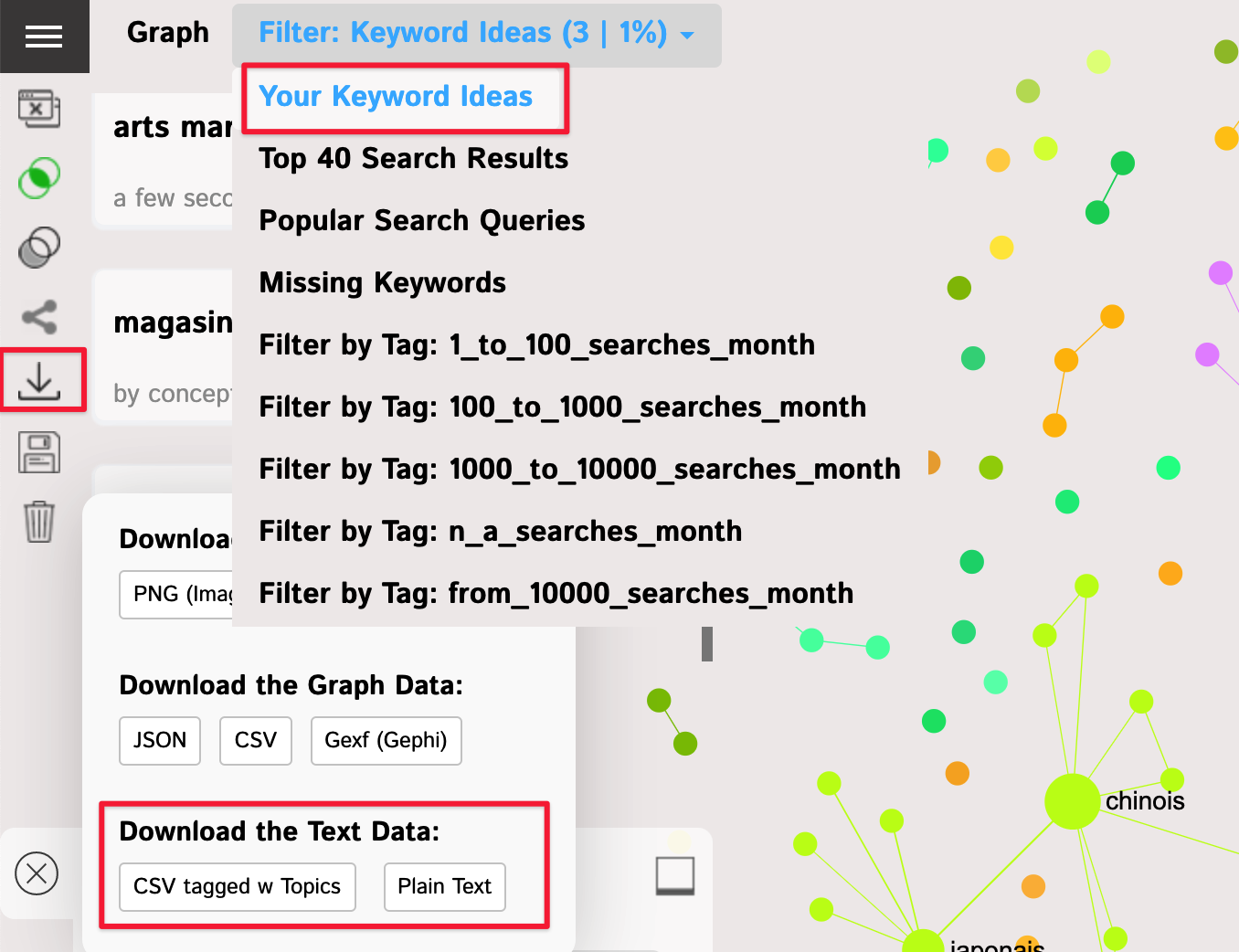 ...
Step 6: Expand your search — add some more related search queries for a more specific search phrase. In order to do that, click + Queries in the editor and type in a more specific search query (in our case, "magasin arts martiaux" (martial art shop), to get deeper into that topic: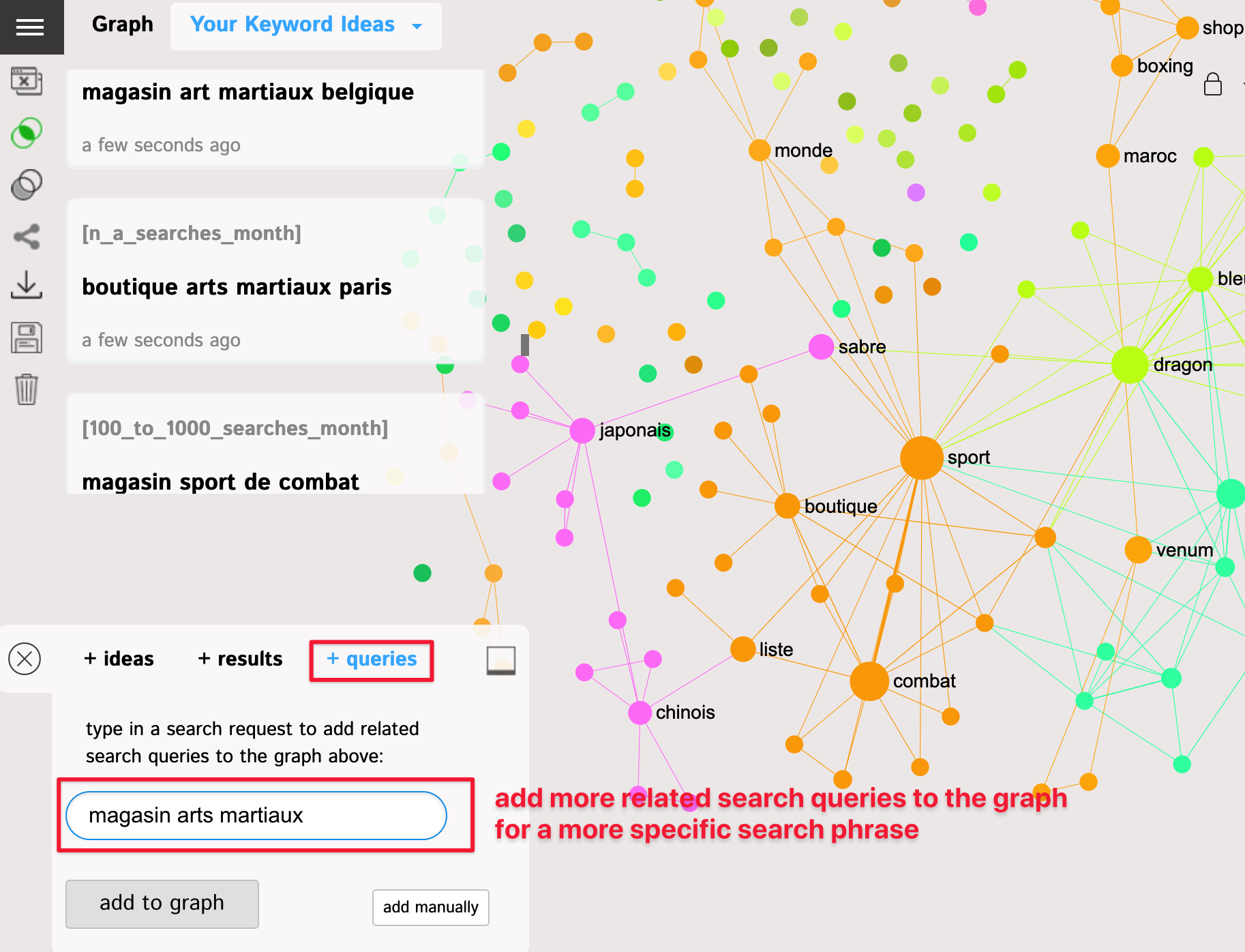 The results show us that there's quite a lot of info about "combat sports" as well, so when we can add this as a keyword idea.
When create our content (or an online shop), we will be sure to mention "combat sports" next to "arts martiaux" as people are actively searching for those two phrases in the same context.
...
Step 7: Reiterate. We recommend to repeat this action several times to get a comprehensive list of keyword ideas.
...
Step 8: You can also compare the related keywords (the informational demand) to what already exists on the web (SERP — informational supply). The gap between the two will show you where you have the highest opportunity to create the content that people search for but do not yet find.
Read more about it on our page: SEO: Using Text Network ANalysis to Find a Content Niche
...
If you like the approach above, try it out using our tools Keyword Graph (for SEO professionals) or InfraNodus (for text researchers).