In this brief tutorial we introduce the basic workflow you can use to get an overview and insight into your data using InfraNodus.
After you watch it you'll be able to apply the same approach to your own data to not only get an overview of a discourse but also to generate new interesting ideas. You can use your own text or any existing discourse.
Video Tutorial:
Basic Workflow:
1. Add a text. You can use the Insight app of InfraNodus and simply write the text as you go using the editor. You can also import an existing text to visualize it as a graph: a PDF or a text document, Google search results or Twitter conversations around a certain hashtag.
2. Get an overview. The graph will show you the main terms in your discourse, the main topics, and how they are related (methodology). We found that visualizing a text as a graph helps think more in terms of connections (research).
3. Use the graph to explore the specifics. Click on the nodes on the graph you find interesting to find out what other nodes / words they are connected to and to reveal the context where they appear. This enables you to read the text in a non-linear way focusing on the patterns that emerge, rather than the chronological narrative.
4. Delete the obvious nodes. Some words may seem obvious to you. Like "machine learning" in the context of "AI". So you can select those on the graph and remove them temporarily to see what's hiding behind those terms (see the image below). You can always get them back into the graph if you click the Undo button (next to the lock button, which permanently removes the stopwords).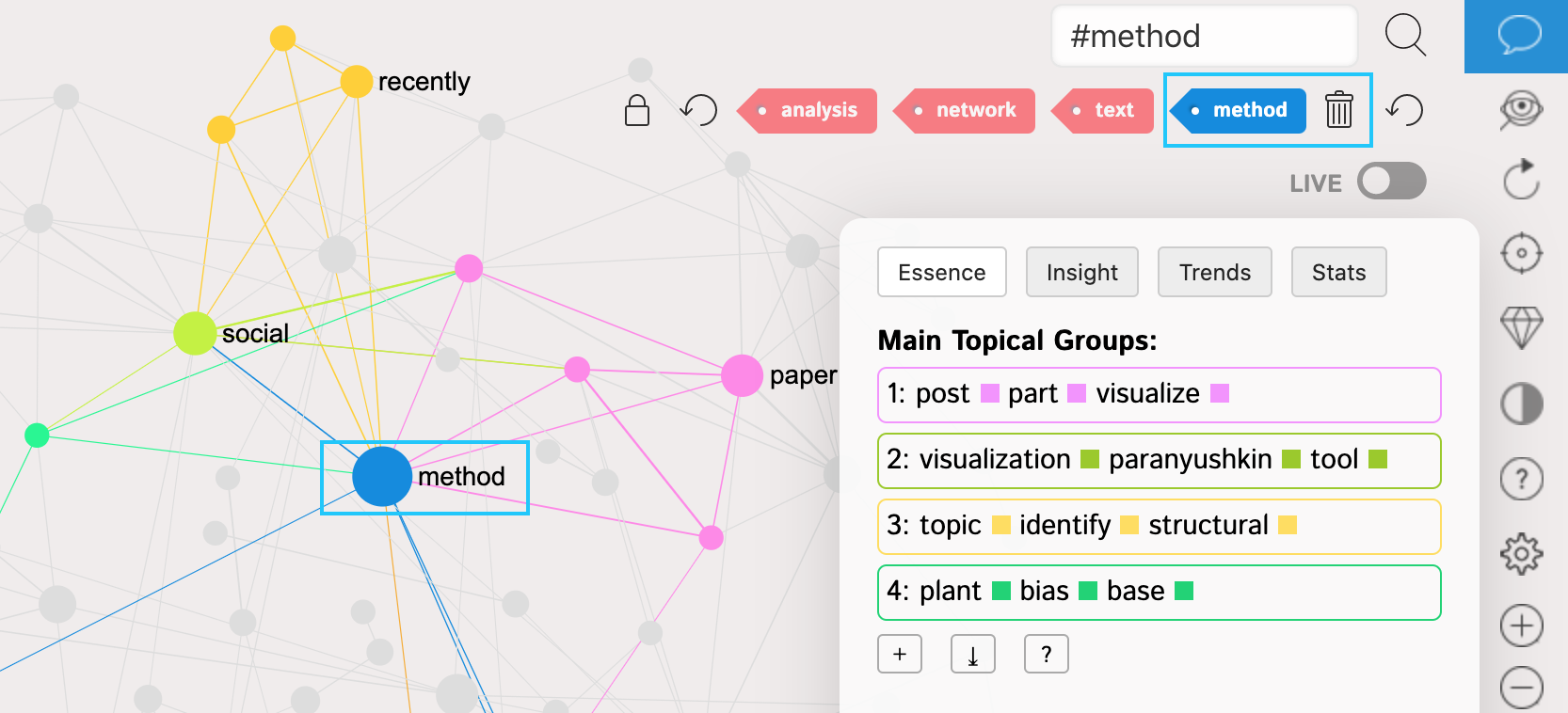 5. Check out the Insights. This is located in the Analytics panel (right bottom). The Insight panel shows you the structural gap: the parts of the discourse that are relevant on their own but are not yet connected. Bridging them together will usually lead to potentially interesting and creative ideas.
6. Reiterate. Get back into the overview, use the graph to find new patterns and connections again.